Deep gold color; white peach, lemon, apricot, wet stone on the nose; tart apple, pineapple, lemon custard on the palate.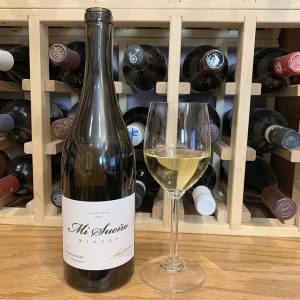 Dry; plush, rich, full in the mouth. Significant oak—18 months in French wood, 30% new barrels. Some complexity and depth from regular batonage for first six months. Buttery from full malolactic fermentation and the oak regimen. Intense, robust, concentrated ripe fruit flavors. 100% chardonnay—2 Dijon and 1 Wente chardonnay clones. Wild yeast fermentation. Light acidity.
This was the first varietal Mi Sueño made when they started in 1997. They assert it "is the perfect hybrid of Burgundy elegance and rich Napa personality." I think there is significantly more Napa and Cali chard character than Burgundy, but some Burgundy elements sneak into the experience. Full bodied with an unctuous-oiliness quality that grows on you as you sip along. Bottom line: this is big, emphatic chardonnay; 14.5% ABV.
The winery is the accomplishment of Rolando and Lorena Herrera. Each of whom are quintessential examples of the American dream. In his early youth, Rolando's family left their home in El Llano, Michoacán, Mexico, to make a life in the Napa Valley. After five years, the family returned to Mexico, but Rolando missed the American way of life. He and his brother returned to St. Helena, enrolled in high school, and supported themselves by working as night-shift dishwashers. Rolando worked as a harvest laborer at Stag's Leap following graduation. Over the next 10 years, he worked his way up at Stag's Leap to become cellar master.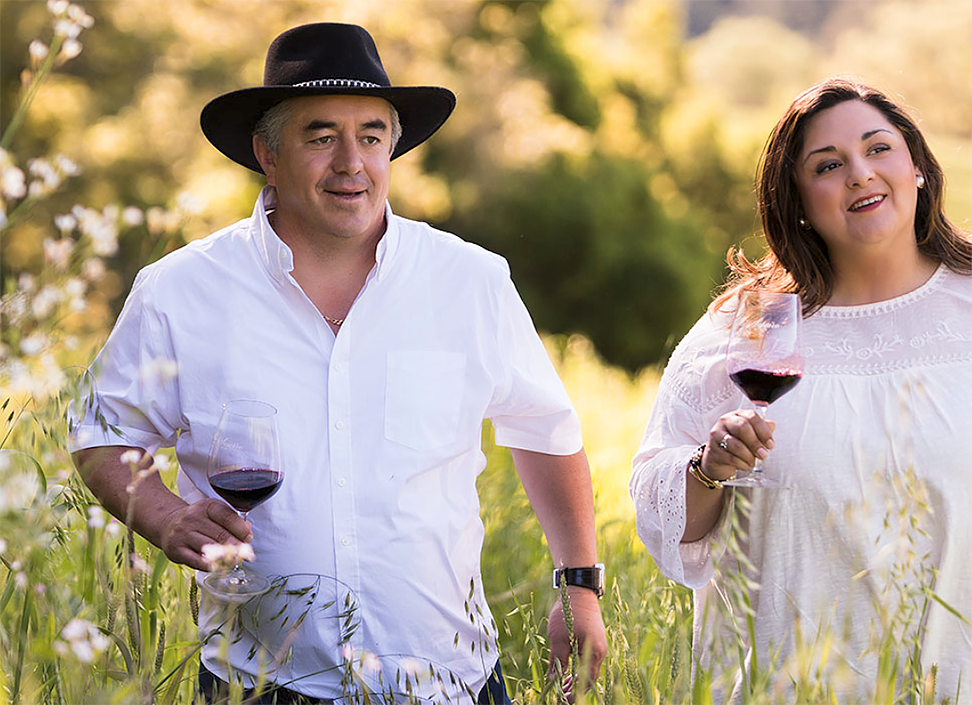 Rolando's career ascent continued: assistant winemaker at Chateau Potelle, winemaker at Vine Cliff Winery, director of winemaking at Paul Hobbs Consultuing. In 1997, Rolando make 200 cases of chardonnay as a side project—grapes he purchased from Lorena's father—and Mi Sueño (Spanish for "my dream") was born. Mi Sueño Winery Chardonnay, Los Carneros is the 20th version of that originating wine. In 2004, Rolando gave up full-time jobs at other wineries and committed everything to Mi Sueño.
Lorena is the oldest child of Reynaldo and Maria Robledo, who came to Napa from Mexico as migrant workers in the late 1960s. Raising their nine children, the Herreras communicated their pride in tending vines and raising grapes. Today, her family owns more than 350 acres of vineyards in Napa, Sonoma, and Lake counties. Lorena and Ronaldo met at church and developed a friendship that lasted a decade before marrying in 1997, the same year she helped Rolando found Mi Sueño, and produced the first version of this chardonnay. The couple found joy with six children since the union. They name each of the six wines in their exclusive (just 100-case production) after their children.
When considering the value immigrants bring to the United States, think about Rolando, Lorena, and their families. How much richer our nation is because we attract the best, brightest, most driven people from around the world to come to our shores to pursue their dreams and enhance our lives.
In 2008, the Mi Sueño Russian River Pinot Noir was poured at the George Bush White House. Two years later, the Herrera Selección Rebecca Cabernet Sauvignon was poured at President Obama's first-ever state dinner, one that honored Mexican President Felipe Calderón Hinojosa. You don't get a clearer, more inspiring demonstration of what value immigrants bring to America. Immigrants are engines that make/have made America great.
Mi Sueño Winery Chardonnay, Los Carneros 2017 is a big Napa-Carneros chard. Avalanche of ripe stone fruit and tart apple, framed by significant oak and butter. Not a single wimpy molecule of flavor can be found in the entire bottle. Big and bold enough to be a meal all by itself, or paired with firm, sharp cheese or blue cheese. This will overwhelm milky or creamy cheese. Food pairing could include meaty seafood—halibut, cod, smoked salmon; pan-seared scallops with garlic cream sauce; ceviche tostadas; arugula, fig, and goat cheese salad. The pairing key with this assertive chard is to avoid light, delicate fare. $42
Mi Sueno website with inspiring features and photos