Straw gold-light copper color; green apple, citrus, bread-brioche on the nose; peach, apple, pear, lemon-lime, white melon, dollop of honey on the palate.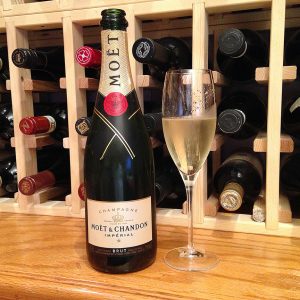 Persistent, tiny bubbles; good acidity; clean, creamy, smooth, inviting. Very versatile. Its exceptionally clean and mouth-watering finish makes it an ideal pairing with food. Classically, it is a superb aperitif to start an event off with elegance and fun (probably its most stellar role); in same vein, it is a fitting celebration wine at the end of a meal. This versatility is a major reason Moët & Chandon Impérial is the best selling Champagne in the world.
Moët & Chandon Impérial is a blend of 30-40% pinot noir; 30-40% pinot meunier; 20-30% chardonnay from more than 100 different cuvéea, 20-30% of which are reserve wines. That is how great Champagnes are assembled and why so many are non-vintage (NV), as is this effort.
Moët & Chandon Impérial is an iconic Champagne first created in 1869. The house traces its roots to 1743. At that time, the Champagne wine region was something of a backwater, the northernmost wine region in Europe, and their wine was thought faulty or inferior, not the internationally recognized symbol of luxury, quality, and indulgence that it is today.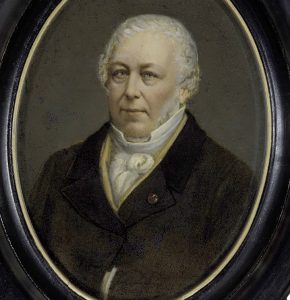 At least partial credit for the transformation goes to Jean-Remy Moët, grandson of House founder Claude Moët, who marketed Champagne to the world toward the end of the 1700s. As the Moët website asserts "The important figures of the era, from the Marquise de Pompadour to Talleyrand to Napoleon quickly fell in love with the House's effervescent wine. Moët & Chandon was soon the icon of success and elegance that it remains to this day."
The Marquise de Pompadour was the mistress of King Louis XV and was a highly influential tastemaker. Her famous quote: "Champagne is the only wine in the world that makes every woman beautiful" refers to Moët. Napoleon visited the House several times and awarded Jean-Remy the Légion d'honneur, one of France's highest honors. Napoleonic troops invented the tradition of using a saber to open bottles of Moët to celebrate victory.
Moët & Chandon Impérial Champagne Brut NV is classic, iconic sparkling that lives up to the hype, no small achievement at the vast production levels it must maintain as the world market leader in Champagne. It is easily available, eminently drinkable, a worthy major player in the world of quality wines. $38-50