Pale gold color; citrus, pineapple, gooseberry on the nose; grapefruit, citrus, pineapple, passion fruit, white peach, minerality on the palate.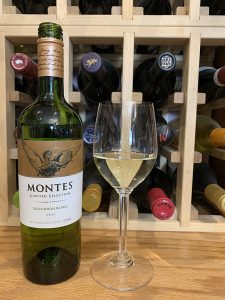 Dry; good acidity, very light and smooth body. This is the innocuous iteration of sauv blanc. No tongue-cutting acidity (New Zealand), no oak and fruit (North Coast California), just an easy-drinking, simple pour. Grapes come from a vineyard about nine miles away from the Pacific Ocean contributes a skosh of salinity. Nothing distinctive, but definitely nothing offensive. 13.5% ABV
Viña Montes is a Chilean success story. It began in 1987 with founders Aurelio Montes and Douglas Murray, both experienced wine professionals. They were joined the next year by Alfredo Vidaurre and Pedro Grand, who brought business skills. From the beginning, Montes wanted to build itself without help of non-Chilean experts and to focus on high quality wines with a large export focus. Today, Montes sells in more than 100 countries world wide. When Montes began exporting, only 13 other Chilean wineries sold outside Chile. Today, the number is more than 200.
Viña Montes asserts wine making is 80% in the vineyard and 20% in the cellar, which is excellent approach and is married to sustainable agriculture. Harvest at the precisely correct time is a particular emphasis. Viña Montes dry farms its vineyards, reducing water use by 65% over earlier vintages. They emphasize responsible waste management, deep research into sustainable practices, and social responsibility. They obtained Level A in GRI sustainability in 2012 (for 2011 vintage) and maintain it today.


Montes Limited Selection Sauvignon Blanc 2021 delivers fruitiness in a softer take on sauv blanc. Nice balance. Crisp and clean. Simple, uncomplicated. May have too much green/asparagus notes for some but Viña Montes consistently delivers excellent QPR. This is no exception. Excellent as a soft aperitif; pair with shellfish and lighter fish; vegetarian fare. Cheese—goat cheese. $9-12