Lovely pink-gold color; straweberry and roses, watermelon on the nose; watermelon, strawberry, some red cherry and raspberry on the palate.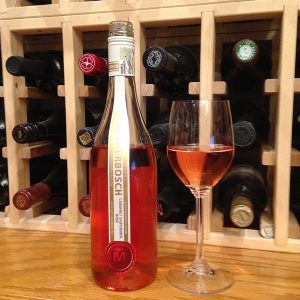 Juicy, very approachable, easy drinking, fun-loving, lip-smacking red fruit delight. This South African winery knows how to make a crowd-pleasing rosé. Dry with good acidity (3.4 pH). Wonderfully fresh, thanks to early bottling. Nice minerality, reflecting good acidity. Red grapefruit charmingly takes the stage in the mid-palate and on the nicely extended finish. This is a knock-it-back and party rosé, not a pinkie-raised sipper. Clear winner for summer or anytime you want beautiful color plus a palate-pleasuring pour.
This will go with food, but it excels as an aperitif all by itself. It is rich and yummy as a wine, and its unique and spectacular color invites conversation and praise. Mulderbosch is long known for nailing rosé of cabernet sauvignon, and in 2016 they did so again.
Mulderbosch Vineyards has been one of South Africa's top wine producers since its founding in 1989. Terroir Capital, a California-based investment company purchased Mulderbosch in 2011. Terroir is led by well-known California wine investor Charles Banks who had long expressed a desire to invest in Cape wine. Banks overhauled the winemaking and management teams and brought in Adam Mason, a Napa Valley winemaking star, to take Mulderbosch to the next level. Banks and Erickson upgraded vineyard management practices and grape sourcing. South Africa is ascendent in the wine world, and Mulderbosch is part of the vanguard of that surge.
Mulderbosch Cabernet Sauvignon Rosé 2016 is gorgeous wine to look at, fun to drink, versatile, and wonderfully priced. $10-11
Photos: Mulderbsoch Vineyards; Mulderbosch tasting deck