Deep ruby color; blackberry, clove on the nose; cherry, plum, raspberry, cranberry on the palate.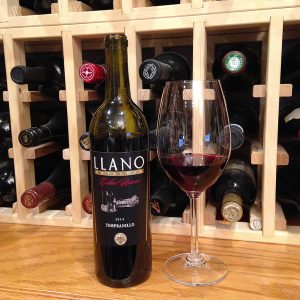 Dry, smooth, surprisingly tame tannin for tempranillo, okay acidity, thankfully light oak. This vintage is not covered on the winery's webpage, but in the past it has been blend of Paso Robles, CA tempranillo and Texas mourvèdre. Sometimes it is a pure play of Texas High Plains tempranillo and mourvèdre. The label announces this vintage is American tempranillo, which is a tell that at least some of the grapes were not grown in Texas. If this was 100 percent Texas grapes, the words Texas Wine or Texas High Plains would be proudly prominent on the label. Whatever, a nice drinker if not a standout one, and at a fair price, not always something that happens with Texas wine.
Llano Estacado is pretty much where it all began with Texas wine. In 1976, Texas Tech (Lubbock, on the High Plains) professors Clinton "Doc" McPherson and Bob Reed decided to hell with the Texas Texas Alcoholic Beverage Commission's ossified opinions about wine making and started the first modern bonded winery in Texas since Prohibition.
It wasn't an easy slog. Who thought Texans could make wine, especially mulish alcohol bureaucrats? Who thought Texas soil could grow grapes or Texan winemaker could make, or Texas drinkers would cotton to fermented grape juice? Well, Doc did, and he was right. He told visitors to his winery he built the walls a foot thick to protect the fermenting tanks inside from rifle shots from rilled up Baptists outside. McPherson and Reed eventually won over the TACB agents because, shoot, these guys are profs at Texas Tech. Red Raiders sporting a PhDs usually win an arguments, particularly if they can round up some Texas A&M Aggies to agree with them. And so it went.
When Doc died at age 95 in 2014, he was the universally acknowledged father (and mentor) of the booming Texas wine industry. Llano Estacado generally is acknowledged as the largest quality wine maker in Texas (170,000 cases annually), but it has competition, including from Doc's son, Kim, and Kim's McPherson Winery. Doc must be proud of them all.
Llano Estacado Cellar Reserve Texas Tempranillo 2014 is easy drinker, round, with plenty of fruity sweetness (which is not same as residual sugar), unobtrusive tannin and easy going acidity, which is to say it is fun wine but not the distinctive powerhouse red you anticipate from a Spanish tempranillo effort, or even a vintage when the grapes all come from Texas. Still, slurp and enjoy. $14-16
Photos: Kim and Doc McPherson, Llano Estacado Winery, Llano Estacado entrance.