Medium straw color; peach, orange, green apple on the nose; peach, oranges, cantaloupe, pineapple on the palate.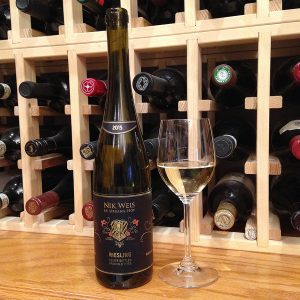 Rich, very fruity; spicy acidity helps balance the residual sugar that puts this at the sweet end of off-dry (29.5 g/L—the trip wire for labeling sweet wine is 35 b/L). This is black label Nik Weis, which is the label color assigned to their sweet wine, although this comes nowhere near the sweetness that riesling can achieve. This is sweeter end of kabinett, approaching spâtlese. The excellent acidity, minerality, and precision keeps everything working together. A very nicely made wine.
Lush in the mouth with silky texture; creamy throughout; finish is delightfully long and seamless. Elegant, complex, delicious. The fruit comes from vines that are 40 to 60 years old, all estate fruit planted by Nik Weis's grandfather. The juice is fermented by ambient yeast to maintain vineyard typicity and character.
The winery name comes from St. Urbans, the patron saint of German winemakers. Hof translates as "estate" in English, so this is St. Urbans Estate. Nik Weis's grandfather founded the winery in 1947, the family had been involved in grape growing for centuries before that. Nik Weis joined the winery in 1997 to work with his father. Today, with 85 acres in the Mosel, the winery is the second-largest family owned winery in the area.
The vineyards border on inaccessible due to steep banks along the river, prohibiting any type of mechanical equipment to plow or harvest. A plow is hooked to a winch at the top of the mountain when cultivation is needed. Harvesting is done by hand. All this contributes to the cost of Mosel wines, even as it contributes to their quality and uniqueness. Forests are encouraged on the flat tops of the hills to absorb rainfall and then gradually release it to the vines below.
Nik Weis is skillful in explaining German wine terms. Kabinett (this wine) is like the sweet yellow banana. Spâtlese is sweeter, like a banana with brown speckles. Auslese is a brown banana.
Mosel is the most famous of German's 13 wine regions and the third-largest in terms of production. It follows the Mosel river from its confluence with the Rhine river near Koblenz, upstream and south-west to Germany's border with Luxembourg and France. The region also includes the Saar and Ruwer tributaries and was known as Mosel-Saar-Ruwer until August 2007, when the name was officially shortened to Mosel.
Nik Weis St. Urbans-Hof Estate Riesling QbA Old Vines 2015 will demonstrate how delicious riesling with some sweetness can taste and never come close to candy or soda pop. Terrific as an aperitif, also pairs well with spicy food, Asian foods, and curry; 10% alcohol to further contribute to playing well with food. $15-17
Photos: Weingut St .Urbans-Hof winery; Nik Weis of Weingut St. Urbans-Hof; Grape harvest at Weingut St. Urbans-Hof