Deep gold color; yellow apple, peach on the nose; yellow apple, pear, peach, vanilla, oak, butter, baking spices on the palate.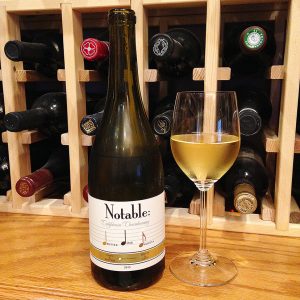 Dry; relaxed acidity (3.55 pH); full body; rich. Smooth, soft, round in the mouth; virtually no tannins. Fermented sur lie in French oak, followed by full malolactic fermentation; aged in French oak (75% new) for nine months. Big fruity sweetness from the handling of the grapes and use of oak. There is a starfruit-mango-banana something that pops up on the finish. Oh, a French oak kicker after the wine has enjoyed exposure to air. A parade flavors going on here.
Notable is a new duo of chardonnays that announce the flavor profile on the label using musical notes. This is the oaky and buttery effort; my next tasting will be the fruity and crisp. The oaky and buttery is made with California grapes, while the fruity and crisp grapes are from Southeastern Australia.
The brand is so new there is little about it on the internet, and the winery website is Spartan with information. This is a Constellation Brands effort, and the unabashedly niche targeting of this brand certainly fits into Constellation's business model, which has made them the biggest wine company in the world. There are no images of the winery or tasting room, so this likely is wine made in a production facility to a specific, focus-group tested slice of the chard market. No breakthrough insight was needed, big and oaky has been a California forte for decades, and this delivers to that substantial market.
Notable California Chardonnay Oaky & Buttery 2015 is exactly what it claims to be—a full-on push for butter, oak, and vanilla—but there is enough restraint that it comes across as reflective of this style of chardonnay rather than a cartoon version of chardonnay. This will pair with white meats, risotto, shrimp and other lighter fish, dishes with Alfredo or other cream sauces, movie house popcorn, soft cheeses. Will work as a solo sipper with its big fruit abundance of flavors. $13-15