Pale straw with slight green tint color; apple, apricot, pear on the nose; apple, apricot, banana, honeydew melon, pear, on the palate.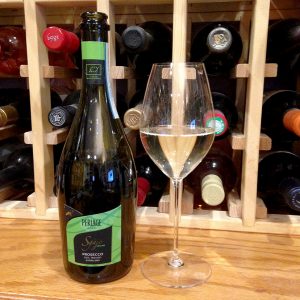 Extra dry (slightly sweeter than brut); very smooth; nicely lively perlage (bubbles). Certified vegan, which means no animal protein used in clarification (egg whites are common to clarify wine). This is bright, fresh, with pleasing hints of sweetness without being cloying.
Perlage started in 1985 when the seven Nardi brothers, encouraged by their parents Tiziano and Afra, decided to convert the family vineyards to organic agriculture. As a result, Perlage is recognized as one of the first Italian organic sparkling wineries.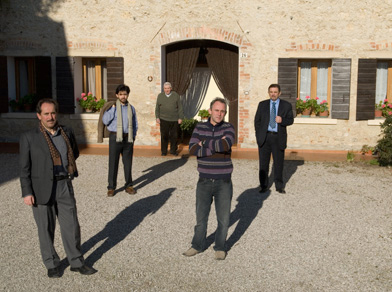 The Perlage website asserts the winery's first responsibility "is towards the consumer. All Perlage products are organic certified and guarantee the greatest quality of organic wine. Perlage assures that the quality of its products will never be controlled by the law of the market, because they cannot go below the qualitative standard that we strive to maintain. We want to guarantee an organic wine that is genuine and certified, with attention to price but always consistent in quality."
Perlage Sgàjo Extra Dry Vegan Prosecco DOC Treviso is delicious, organic, and vegan. The Nardi family took a risk more than 30 years ago on this approach to sparkling, and it has paid off with a very nice wine that is particularly clean and direct on the palate. Even if you are not a vegan and not into organic products, you should enjoy this excellent expression of Prosecco. Pair with prosciutto-wrapped melon; cured meats; fish and rice dishes; vegetable dishes and vegan cuisine; Asian dishes, including Vietnamese cuisine; also can work as aperitif and paired with fresh fruits and cheeses. $10-13
YouTube video on Perlage Winery