Medium garnet color; cherry, cranberry, roses, leather, tobacco, smoke on the nose; black cherry, blackberry, raspberry, orange zest, licorice, tar, eucalyptus on the palate.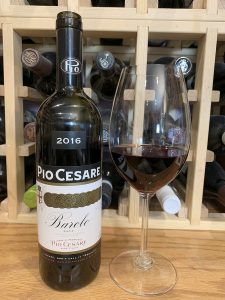 Dry; firm, fine, tasty, integrated tannins; bright, balancing acidity. Complex with pleasing roundness and smoothness that comes across as sweetness, although that is delicious ripe fruit fooling the palate. Medium-full body. Medium length on the finish. There is whisper of oak and vanilla here—wine spent 30 months in large French botti (large barrels used for years). Aging in botti helps knit the elements rather than oak dominating the pleasurable experience. 14.5% ABV
Barolo usually is referenced as the most dramatic and powerful expression of nebbiolo. This is made in classic nebbiolo style, which delivers a wine of harmony and elegance, not assertive power. This is very sophisticated wine, not one that screams "look at me!" This is that person you meet at a party who is gracious, charming, and approachable. Then, later, you find out they won a Pulitzer or Nobel prize or built a billion dollar company that now is rescuing people in third-world countries.
The winery is in its fifth generation of ownership. It is located within the city limits of Alba in northwestern Italy. With this traditional effort—they have other edgier iterations—they eschew bells and whistles and let their extraordinary nebbiolo speak for itself. The grapes come from family-owned vineyards in five comuni (villages): Cascina Ornato, La Serra and Briccolina in Serralunga d'Alba; Gustava and Garretti in Grinzane Cavour; Roncaglie in La Morra; Ravera in Novello; and starting with the 2015 vintage, Mosconi in Monforte d'Alba.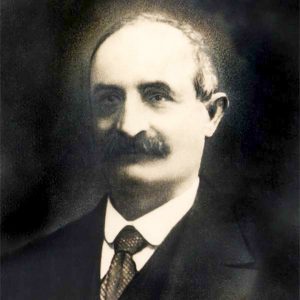 Cesar Pio found the Pio Cesare winery in 1861. The website notes: "He was a very successful entrepreneur and was inspired to produce a small and select quantity of wines from the hills of Barolo and Barbaresco for himself, his family, friends, and customers. Cesare Pio was dedicated to the terroir of the Piedmont region and to producing wines of the highest quality."
Cesare's son, Giuseppe, pushed the family winery to the next level. In 1940, Giuseppe's only child—Rosy—married Giuseppe Boffa, an engineer from Alba who managed a large company in Milan. As Italy struggled in World War II, Giuseppe Boffa decided to leave his job in Milan and focus on the Pio Cesare winery. Under his leadership, Pio Cesare earned international acclaim.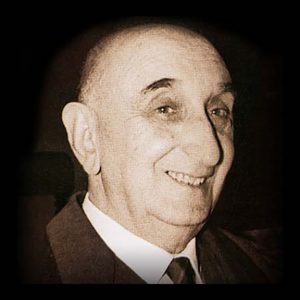 The website notes: "Rosy and Giuseppe Boffa named their youngest son Pio, in honor of his great-grandfather's surname. Pio Boffa, the fourth generation, leads and directs the company today. In the early 1990's Pio Boffa asked his cousin Augusto to join him in the company. His sister's son, Cesare Benvenuto, has been active since 2000 as the fifth generation and recently Pio Boffa's daughter, Federica Rosy, joined Pio Cesare, representing the future of the Family."
Pio Cesare Barolo DOCG 2016 is so good you can enjoy it all by itself or abet with a cheese or charcuterie tray. Round, smooth, tasty ripe fruit floods your palate with pleasure. Pair with beef dishes; stews; veal; pasta, especially ones with tomato sauces; lamb; duck; wild game—venison; milder cheeses—old gouda, old cheddar, pecorino vecchio, robiolo, grana padano. $75-82