Deep gold color; white peach, lemon, pineapple on the nose; peach, yellow apple, honey, caramel, oak toast on the palate.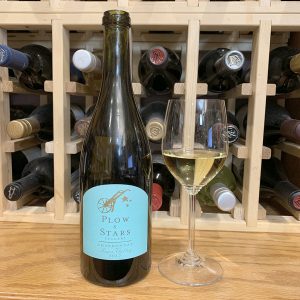 Dry; very robust body; very marginally moderating acidity. This is made in the big style of Napa chardonnay—malo and oak and rich, ripe fruits; 15.5% ABV. Creamy; thankfully restrained on the butter; works hard to be a massive chard. Easily can be accused of being overdone, maybe even manufactured, but it does hit a distinctive mark. You likely have not tasted a chardonnay quite like this before.
Plow & Stars Cellars Chardonnay Napa Valley is made by Wine World Estates, which is a branch of Australia's Treasury Wine Estates. Treasury aims to please the average wine drinker. Penfolds is their serious flagship brand, but you also likely know some of their other labels: 19 Crimes, Wolf Blass, Lindemans, Sterling Vineyards, BV (Beaulieu Vineyard), Beringer, Blossom Hill, Stags' Leap (where placement of the apostrophe after the "s" engendered lawsuits), Etude, Greg Norman Estates, Rosemont, Chateau St. Jean, The Walking Dead—and so it goes.
There are some superb bottles of wine in Treasury's very extensive portfolio. There are some that aim for supermarket, somewhat unsophisticated buyers who just want something to chug with enough sweetness and oak and alcohol to cover mass-production flaws and cost around $10. This is the wine world, and Treasury must cater to a panorama of tastes. No problem with that.
Figuring out where Plow & Stars falls into the wine picture takes a "step back and reboot" evaluation. If you savor the currently popular un-oaked or faintly oaked versions of chardonnay with higher acidity and purer expression of terroir, you likely will say "whoa" to this effort. But let's appreciate it on its own terms.
This is a really big chardonnay. How did they get 15.5% ABV? Really ripe grapes, which delivers vividness of fruit. It also means this flirts with flabby because acidity and ripeness are, basically, a see-saw proposition. The more ripeness, the less acidity and vice-versa. Plow & Stars/Wine World Estates/Treasury opted toward ripeness and high alcohol.
Plow & Stars is not a winery, it is a brand/label made with grapes purchased in Napa, so there are no photos of pastoral beauty and historic wineries. This is factory, négotiant wine, with an interesting tell that it carries a rural, agrarian label. I am sure some of my readers will find this wine delicious and wonderful, and some will not. It certainly is not undrinkable plonk, but, to be fair, Treasury seldom makes such a mistake. They make drinkable wines, it just depends on the silo of wine appreciation where you reside.
Plow & Stars Cellars Chardonnay Napa Valley 2017 is a massive chard with massive fruitiness and massive alcohol for a massive chardonnay. You will have to taste for yourself if this is territory you wish to tread. I have no doubt that Treasury focus-grouped this style and found a viable market. Pair? I am not sure that is the question. This seems much more suited to drinking it solo, maybe some neutral wine crackers, perhaps a charcuterie plate. At this price, you likely are not going to pair it with a bucket of Kentucky Fried Chicken or movie popcorn, but it would work. $35