Deep straw-gold color; apple, peach, toasted bread on the nose; green apple, white peach, apricot, lemon, almond, minerality on the palate.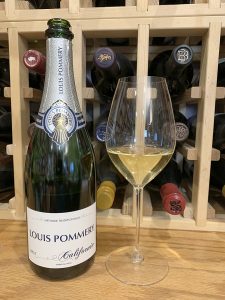 Brut; vigorous, fine-grained bubbles; soft, lemony mousse. Crisp acidity. Creamy mouthfeel with a touch of ripe fruit sweetness. Soft finish. Blend of 96% chardonnay, 4% pinot noir. French Champagne maker Pommery makes this method traditionnelle sparkling in California. Opulent, lively marriage of California fruit and Old World style. 12.5% ABV
Pommery has a rich history in France, starting in the mid-1800s. When the winery's founder Alexandre Louis Pommery died in 1858, his widow Madame Louise Pommery transformed the modest business into one of the largest Champagne houses in France. She also is credited with inventing brut Champagne in 1874.
That spirit remains in the house today. Looking beyond the chalk fields of Champagne, today Pommery produces wine in California—intoxicated by the microclimates and possibilities of Sonoma. And England—intrigued by the possibilities of Pinglestone in Hampshire.
In Napa, after eight years of work and research, cellar director and world oenological development manager Thierry Gasco perfected a new way of encapsulating yeast. The result is a clearer, purer wine because there is no sediment that produces a wine of excellent clarity and brilliance.
Pommery Louis Pommery California Brut is delicious and delightful clean, crisp Napa-Carneros mostly chardonnay sparkling. Sips like an Old World Champagne, but with a fruity California twist. Superb QPR (quality-price ratio) for a bubbly of this quality. Works nicely as an aperitif. Pair with shellfish; shrimp; lobster; lean fish; appetizers and snacks. As a classic sparkling, you can pair this with almost any dish without fear of shame. Cheese—baby swiss, colby, brie, camembert. $19-22
The website has no photos of vineyards or the winery.