Deep straw-gold color; lemon, orange, tropical fruit on the nose; lemon zest, grapefruit, peach, mint, salinity on the palate.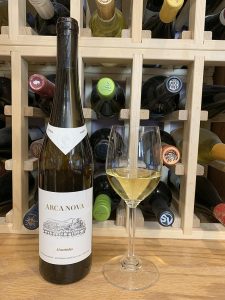 Dry; pure alvarinho play. Light-medium body. Rich, crisp in the mouth with pleasingly extended finish. Good acidity and expected dash of minerality. Produced in the Minho region, thus cannot be labeled as vinho verde, although that is factor of geography—this is Portuguese white in vinho verde style. Fernando Machado and Henrique Lopes are the winemakers. 13.5 ABV
Winery was founded by Antonio Edwards Monteiro in 1985 after a decade in land consolidation and implementation of modern agricultural practices. Today, their website asserts they have firm foundation to approach the global market for quality wines. The company produced its first certified bio wine in 2012 with the grapes from their almost 500 acres in the Vinho Verde wine region.
Quinta das Arcas Arca Nova Alvarinho, Minho 2020 is a nice iteration of alvarinho—wonderful with fish and versatile beyond that. Portuguese wines are among the great values in wines, particularly paired with lighter meats and choices beyond heavier fare and red meats. Works as aperitif, especially well chilled in summer; pairs with fish—classic alvarinho pairing; poultry; salads; tapas; Asian and Mediterranean cuisine; vegetarian fare; appetizers and snacks. $15-18