Pale gold color; orange peel, apple, honey on the nose; yellow apple, orange, lemon, beeswax, nectarine, pear, white peach, minerality on the palate.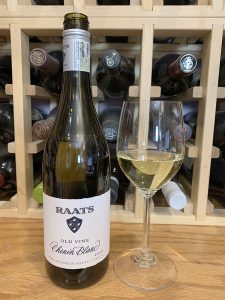 Dry; light-medium body; excellent acidity. Smooth mouthfeel juxtaposes with zesty edge provided by the lemon, citrus, acidity notes. Only a whisper of oak—South African wineries often finish chenin blanc (steen) in oak. Some 30% of the wine spent time in French oak barrels, only 10% new. Concentration, depth, complexity from grapes harvested from vines 45-65 years old. Nicely extended finish; 13.5% ABV.
Made from grapes from three vineyards. Vines average age was 40-plus years, thus the concentration of flavors. Planted in natural soils of decomposed dolomite granite and sandstone—reasons Stellenbosch is leading wine area of South Africa.
Bruner Raats founded the winery in 2000 with a focus on two varieties: chenin blanc and cabernet franc. Vineyards are located in the Polkadraai Hills of the striking Stellenbosch wine lands. Raats added winemaker Mzokona Mvemve—first black winemaker graduate of the University of Stellenbosh—and viticulturist, and cousin, Gavin Bruwer to round out his successful team. Two decades after the founding, Raats is considered a leader in production of both of the varietals the winery focused upon. In recent years the winery has expanded its brands and varietal focus, but chenin blanc and cab franc remain the foundation of the winery's offerings.
The website notes: "Based in the winemaking capital of Stellenbosch, Bruwer, Mzokona and Gavin's winemaking criteria is rigorous, and includes the quality of grape, soil, climate, topography and of course the impact of the human hand, which together, embodies the truest meaning of terroir."
Raats Old Vine Chenin Blanc, Stellenbosch 2017 is pure, crisp, clean, tasty, intriguing. South Africa used to call this varietal "steen", but they got with the international program and label it chenin blanc today. It is the definitive South African white wine. Not quite the same as French vouvray or California-Washington chenin blanc (all the same grape variety), although that says more about the versatility of chenin blanc—it can be made into dry white, such as this, or a rich, balanced brandy. This effort reflects what a premier terroir in South Africa can deliver to your taste buds. Pair with shellfish; lean fish; duck; spicy foods; mild and soft cheese. $25
Raats Family Wines website, excellent video