Medium garnet color; cherry, plum, vanilla, fig, tobacco, leather on the nose; black cherry, blackberry, plum, blackcurrant, red fruit, oak spice, brown sugar on the palate.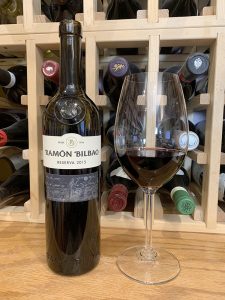 Dry; ripe tannins with good acidity (3.51 pH). Medium-plus body. Blend of 90% tempranillo, 5% graciano, 5% mazuelo from the Rioja Alta, a subregion provider of fruit for Ramōn Bilbao's reserva and grand reserva efforts. Significant oak influence—20 months in American oak, plus 20 additional months of bottle age before release. Rioja reserve rules require at least three years of aging. That said, Ramōn Bilbao has dialed back on its oak program in recent years. The oak here is present but not obnoxious or attempting to muscle onto center stage. 14.5% ABV
Ramōn Bilbao started his wine adventure in 1924 because he saw it as an opportunity to travel the world. The family continued the tradition until the founder's grandson, Ramōn Bilbao Pozo, died without leaving an heir in 1966. The winery became a corporation in 1971, and in 1999 was obtained by the family firm of Diego Zamora S.A., which operates it today. A visit to their website is a delight, including several engaging and informative videos. The interesting story is available on the website, with links below.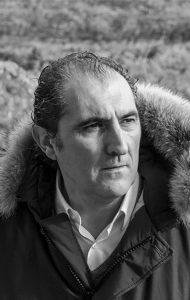 Rodolfo Bastida is the technical director and general manager of Bodegas Ramōn Bilbao. In addition to a technical agricultural engineering degree, he has a master's in viticulture and enology and a master's in business management. Sara Bañuelos is the technical director. She has a bachelor's degree in enology at the University of La Rioja. Rosana Lisa is the director of innovation and deputy technical director. She has a bachelor's degree in enology. Qualified people making quality wine. Hard to get better than that.
Ramōn Bilbao Reserva Rioja 2015 delivers complexity and depth of dark fruit framed by ripe tannins and significant but appropriate oak. While the balance bodes well for continued aging, this is drinking nicely after seven years. Classic Rioja; 90% tempranillo. Rich and impressive. Pair with rich beef fare—grilled, roasted, barbecued, beef stew; lamb; veal; venison; baked chicken. Cheese—manchego; brie (with rind); camembert (with rind); aged cheddar; goat cheese (chèvre). $25-30
Ramōn Bilbao website; includes interesting videos
Ramōn Bilbao page on Deutsch Family Wine & Spirits, U.S. importer