Medium-deep ruby color; cherry, persimmon, cedar, baking spice on the nose; black cherry, dried fig, cola, blackcurrant, leather, smoke on the palate.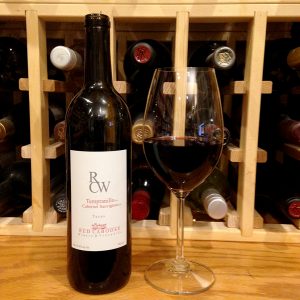 Dry; vivid fruits, with cola and blackcurrant leading the way. Significant tannin with some balancing acidity. Definitely decant. Some oak, but oak is not the lead singer in this band—tartness and sour cherry definitely are. This is not a wine for everyone. People put off by assertive reds with sour flavors, tartness, and blackcurrant tang will not enjoy this wine. If, however, your palate is pleasured by those attributes, especially when paired with assertive red meats, then this will well suit your proclivities. If you enjoy the buzz wine can deliver, this also delivers—15.2% ABV.
Their literature notes Red Caboose aims to: "make the most natural and organically produced wines possible by using 'Old World Wine' organic principals. All of our wines have very low levels of sulfites and some have no sulfites! We make great wines by organically growing our own natural grapes." That applies here. The wine is unfiltered and delivers some rustic aspects, although rusticity is not a central beam in my tasting.
Red Caboose asserts it is the most sustainable winery in Texas and has the awards to back up their claim. Founder Gary McKibben is an architect, so the winery utilizes solar power, geothermal energy, rainwater harvesting, recycling, and composting. McKibben manages the vineyard using organic/sustainable practices. "We do not apply harsh pesticides to our grapes! Every step of our viticulture is done by hand. We do not machine harvest." His son, Evan, is the winemaker.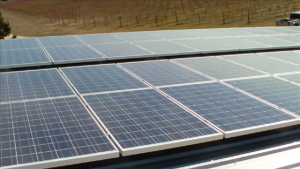 The winery and vineyard are located north of Meridian, the county seat of Bosque County in Texas. There is a large and commodious tasting room in Clifton, 15 miles south of the winery-vineyard. Clifton is the largest town in Bosque County and the cultural/financial center.
This is deeply rural Texas. The county population is around 18,000; Clifton's population is about 3,500, Meridian about 1,500. Bosque County is located on the northernmost fringe of the Edwards Plateau, so Red Caboose asserts it is one of the northernmost winery-vineyards in the Texas Hill County AVA. McKibben chose this location, at least in part, to avoid the scourge of Pierce's Disease, a vexing problem in southeastern Texas vineyards. The winery also sprays its vines with mineral oil—a natural product that the glassy wing sharpshooter, the vector for Pierce's Disease, cannot tolerate. A natural solution rather than manufactured chemicals. Bravo to them.
Texans know Bosque as the home of James E. "Paw" Ferguson, 26th governor of Texas, and Miriam A. "Maw" Ferguson, 32nd governor of Texas. The county is roughly halfway between Waco and Fort Worth. Bosque is the Spanish word for "forest." The Bosque River flows through the county and into Lake Waco. Bosque also is the heart of the Norwegian heritage of Texas; there is a Norwegian historic district in Clifton.
You can purchase wine at the winery in Meridian or the tasting room in Clifton, through the wine club, and through the Red Caboose online store on the website. The winery can only ship in Texas. Some Red Caboose wines are sold at select HEB grocery stores in the Waco-Fort Worth area. At present, distribution is the headache for Texas wines. That will be solved, have patience.
Red Caboose Winery & Vineyard Tempranillo-Cabernet Sauvignon, Texas NV is a serious wine built for pairing with rich foods rather than a supple, simple sipper. This presents tempranillo and cabernet suavignon in their assertive, elemental renditions. Depending on your palate and oenophilic experience, you will find this fascinating and singularly interesting, or you may have trouble with the wine. Such is wine. Pair with rich red meats; steak; barbecue; lamb; pizza; Italian dishes with tomato-based sauces; Tex-Mex foods such as tacos, burritos, chile rellenos. $28