Deep ruby color; black cherry, plum, violets on the nose; black and red cherry, plum, hint of chocolate and black currant on the palate.
Dry; very smooth with little or no of the bite or pucker you anticipate from a cabernet sauvignon-led Bordeaux blend. This is 57% cabernet sauvignon; 41% merlot; 2% petit verdot, all sourced from vineyards in the Texas Hill Country AVA and the Bell Mountain AVA, both parts of the greater Hill Country AVA centered—in very broad terms—around Fredericksburg, Texas. (BTW: "enchanté means "nice to meet you" in French).
The winemaking facility and tasting room are located in the tiny hamlet of Hye, 20 miles east of Fredericksburg on US 290, the wine road in the Texas Hill Country that is similar to Napa's Highway 29. The Texas Hill Country AVA is the second-most visited AVA in the United States, only behind Napa. There are clear differences: the Napa AVA is 789 square miles; the Texas Hill Country AVA is more than 14,000 square miles. Well, things are bigger in Texas.
While the Texas Hill Country AVA produces grapes, the AVA is more famous for its wineries and tasting rooms. Most Texas grapes come from the Texas High Plains AVA, a region more than 12,500 square miles on the Texas High Plains (Llano Estacado) centered around Lubbock. With elevations ranging from 3,000 to 4,000+ feet, hot days and cool nights, the High Plains has developed into a major grape producing region in the past 40 years.
The Texas Hill Country AVA has challenges with grape production—vineyards generally are 1,000 feet less elevation than the High Plains and then there is Pierce's disease, a bacterial malady that blocks water conduction in vines and is spread by the glassy winged sharpshooter. On the other hand, the Texas Hill Country is a major—and huge—tourist area in Texas, and was so even before the winery boom.
With more than 1.5 million people in San Antonio (seventh largest city in the U.S.) and one million people in Austin (11th largest city in the U.S.) the area is an easy day trip for millions. Throw in 2.3 million people in Houston (4th largest U.S. city) and the Dallas-Arlington-Fort Worth area with 2.5 million people. The Hill Country AVA is comfortably reachable for 7.3 million-plus people, all in a less than a four-hour drive. Texans don't blink about four hour drives, and the Austin/San Antonio drives are 90 minutes or less.
Wisdom is you go to Napa for vineyard beauty and tony tasting rooms. Throw in really high prices. You go to the Texas Hill Country if you want welcoming tasting rooms, good food, thigh-slapping fun, and outrageous characters. You also go there to enjoy the soaring quality and sophistication of Texas wines. William "Bill" Blackmon and Chris Brundrett—William Chris Vineyards—are part of that inspiring story.
Blackmon has more than three decades experience growing and managing vineyards on both the High Plains and the Hill Country. He moved to Fredericksburg in the 1990s to plant some of the first vineyards, including Granite Hill Vineyards in Willow City—supplier of cabernet sauvignon and merlot grapes used in this wine.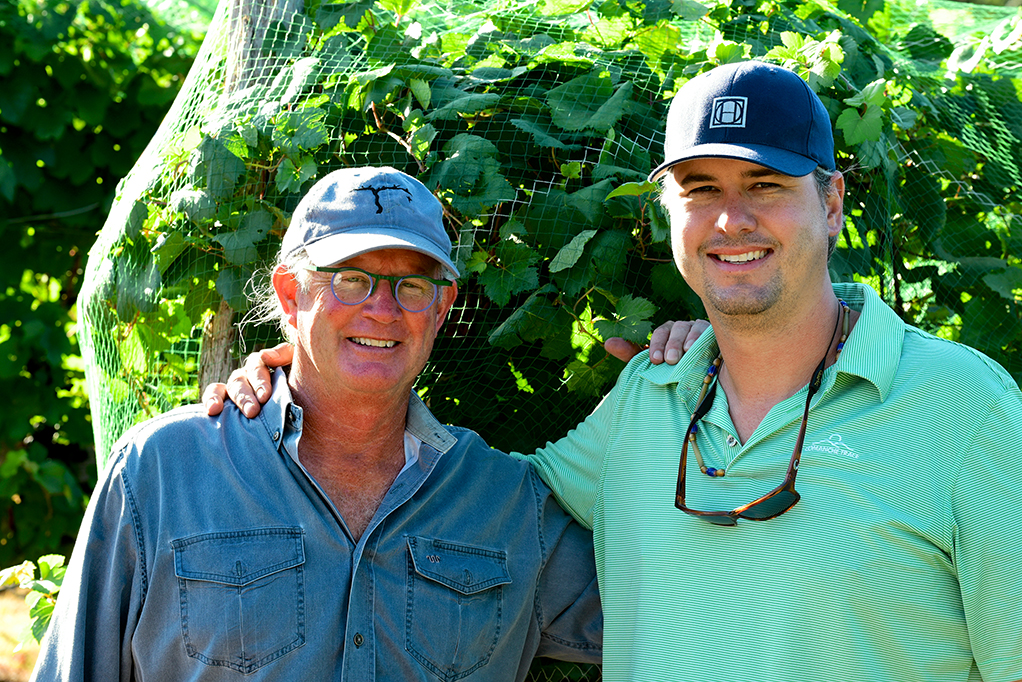 Brundrett, who grew up in San Angelo where I am based, earned his horticultural degree from Texas A&M, then worked at wineries on the High Plains and the Hill Country. In 2017, he received the Outstanding Alumni Award from Texas A&M. The following year, Wine Enthusiast Magazine featured him as a winemaker who is changing the face of American wine.
Blackmon and Brundrett became partners in William Chris Vineyards in 2008. Using Old World techniques they produced 16 barrels of Enchanté. Those earlier efforts were more right-bank Bordeaux with merlot taking the lead. This 2017 wine is their first where cabernet sauvignon takes the lead. It still comes across as more right-bank than left-bank with its softness and lack of tannic bite. Oak is wisely subdued—18 months in 25% new French and 75% neutral. Alcohol is a food friendly 12.5% ABV; acidity is reserved at 3.8 pH.
Even though William Chris production now approaches 35,000 cases a year, like many Texas wines, you are unlikely to find this even in a high-end wine shop. Wines are available online with shipping to all the usual enlightened states—35 of them, plus DC. Going to the winery/tasting room is the best way to buy and enjoy, and there is live music on weekends. Fredericksburg tasting rooms, restaurants, venues and Hill Country wineries are big on live music, drawing from large talent pools in Austin and San Antonio—not to mention the musicians who call the Hill Country home. There also is a Willian Chris wine club—Hye Society. Check it out.
William Chris Enchanté, Texas Hill Country 2017 is smooth, easy-drinking red made in a right-bank Bordeaux style with its own Texas twist by two Texas wine illuminati. The best chance you have of snagging a bottle or two from among the 1,720 cases made is to come to the Texas Hill Country AVA. You will not be alone: only Napa attracts more visitors. Bonus—you likely will not experience Napa's claustrophobic crowds. The Texas Hill Country AVA is more than 18 times larger than Napa's AVA. Yes, things are bigger in Texas.
Pair with red meats, but not so much with the fattiest cow meat slabs as the tannins in this wine are better married to more demure flesh. You can comfortably enjoy with pasta dishes, especially those with creamy sauces; risotto; range of cheeses. You also can drink this solo with friends, swapping life's tales while reveling in the glories of a Texas sunset from the comforts of your porch's wooden rocking chair at your Hill Country bed and breakfast. $42