Deep gold color; golden apple, hazelnut, clove, brioche on the nose; pear, baked green apple, lemon, fresh bread on the palate.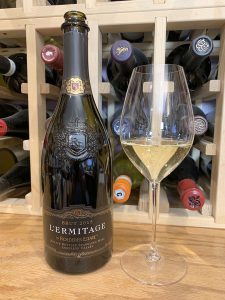 Brut with superb acidity (3.04 pH). Persistent fine bubbles. Medium body. Creamy mouthfeel. Rich and polished. Concentrated flavors, likely because of the stress put on the vines by the extended drought in California wine country. Blend of 52% chardonnay, 58% pinot noir; 4.9% aged reserve wine from 2014, 2012, 2010. Lemon and acidity present on the initial attack, then comes the classic sparkling fruits, followed by an extended and layered finish. 12.4% ABV
Roederer Estate is the California operation of Champagne Louis Roederer. It has produced wine in the Anderson Valley since 1982. The website notes: "Jean-Claude Rouzaud, former president of Champagne Louis Roederer, understood that first-rate estate vineyards create exceptional sparkling wines, which is why he selected the 580-acre Anderson Valley vineyard and winery site in 1982. Jean-Claude, who has since handed down the family tradition and position to son Frédéric Rouzaud, believed that estate-owned vineyards were essential to ensure the highest quality wine, spending several years exploring California's diverse regions for ideal growing conditions. The vineyards were planted in 1984, the winery was built in 1986, and the first Roederer Estate MV Brut cuvée was introduced in 1988."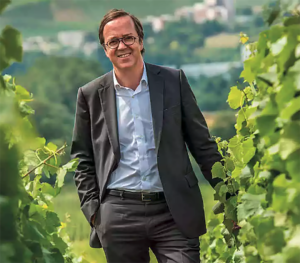 Arnaud Weyrich is the winemaker. He began his career at Roederer as an intern after graduation from the Montpellier school, "Ecole Supérieure d'Oenolgie" with a master of science degree in viticulture and enology. He worked at other wineries and retail beverages, then returned to Roederer in 2000. In 2002, Arnaud and his family moved to Roederer Estate in California and today is the winemaker and vice president of production. He manages all aspects, from the vineyard to the day-to-day business of a wine company.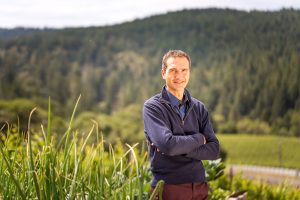 Roederer Estate L'Ermitage Brut, Anderson Valley 2015 is deliciously complex special occasion wine. Elegant, luxurious, rich, polished. Both vibrant and round in the mouth. A versatile crowd-pleaser, especially among a cadre of sippers comfortable with and appreciative of sparkling from the upper shelves. Those who prefer sweeter with less assertive acidity will likely sip and smile, but with less unalloyed pleasure. $47-65
Sparkling wine is the most versatile food pairing wine there is. Pair with almost anything, but this clearly will work as a celebration wine to toast achievement or an event. In that event, you can happily pair with finger food, charcuterie board, or sip and celebrate on its own.