Medium purple color; blackberry, violets, black pepper, smoke on the nose; blackberry, blueberry, plum, ripe dark fruits, mocha on the palate.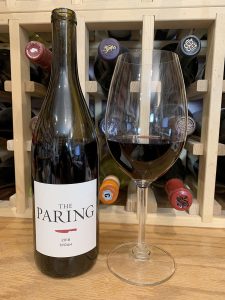 Dry; moderate tannins and acidity. Medium-plus body. Benefits from decanting, which puts emphasis on the fruit and savory elements and brings the wine into plush balance. Less powerful and brawny than I recall the 2016 vintage being, but more elegance and easy-going drinkability. Aged 22 months in French oak, 35% new, 65% neutral. Bottled unfined and unfiltered; 100% syrah according to the winery tech notes; other sources note 2% petite sirah and 2% viognier. In any event, syrah dominates. 14.5% ABV.
Voluptuously ripe grapes harvested from vineyard blocks not used for the more expensive wines of the Jonata and The Hilt brands. Thus the name—the grapes "pared" from those destined for the other labels because they "are either too young or don't fit into the vintage style of the highly acclaimed JONATA and The Hilt wines."
The grapes primarily were sourced from Santa Barbara region—the Santa Ynez Valley in this vintage. This is a second label; it also is a tasty delight in its own right. In fact, some sippers will prefer this over its more assertive and expensive siblings.
It is easy to confuse the name of this wine. It is not "pairing" as in "what food goes with this." It is "paring" as in paring knife, the small knife you use to peel fruits and vegetables. If you study the label you get it.
The Paring is a second label from the Jonata winery. It is owned by Stan Kroenke who also owns Screaming Eagle, one of the most expensive cult wines in California. Oh, and Kroenke also owns the LA Rams, the Denver Nuggets, Arsenal (the English football team), and a host of other sports franchises. He is a multi-billionaire in his own right and married to Ann Walton, a Walmart heiress.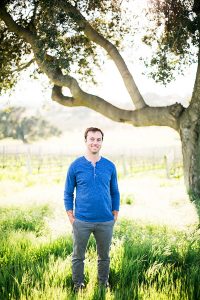 Matt Dees is the winemaker. The Paring website notes: "Armed with a degree in Soil Science from the University of Vermont and vintages at Staglin in Napa, California and Craggy Range in Hawkes Bay, New Zealand, Matt has an intrinsic feel for wine, from dirt to glass. Curious and experimental by nature, Matt's approach to winemaking is grounded in the vineyard first and foremost: attuned to the vines, the weather, the soil, Matt seems almost to be a part of the vineyard itself.
"Matt comes to wine with an untethered philosophy, a mindset embodied in The Paring. At the core of these wines one finds a wide-ranging exploration of style, vineyards and blending. When he's not working with The Paring, Matt can be found making the wines for its big sister wineries—Jonata and The Hilt."
The Paring Syrah, Santa Ynez Valley 2018 delivers excellent drinkability. Clean, plush, well-integrated and balanced, especially after decanting. Lacks some complexity, depth, and length, but over-delivers as a tasty, juicy, fun, easy drinker. Good QPR (quality-price ratio). Classic pairing with lamb and darker meats that can meld with syrah's richness and body. Beef; barbecued spare ribs; venison; pork; Indian tandoori-roasted chicken; grilled vegetables; hamburgers, meatloaf, pizza; mac and cheese. Cheese—hard, aged cheeses; gouda, edam, cheddar; blue cheese—gorgonzola, roquefort; salty—pecorino, grana padano. $25-29