Dramatic gold-salmon color; floral nose with some bread and almond notes; vivid citrus, green apple, nectarine on the palate.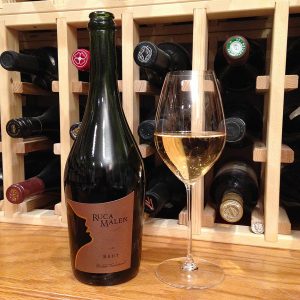 Fresh, creamy, light; terrific crisp acidity (3.0 pH) that balances the touch of sweetness provided by six grams of residual sugar; the wine matured in contact with the lees for at least a year, solidly delivering enchanting complexity.
This blanc de noirs (white wine from red grapes) is 75% pinot noir and 25% chardonnay; vinification is traditional method (Champenoise). Very fine perlage. Intriguing nip of spice and a reminder of the cutting acidity on the finish. Very nice bubbly effort from Uco Valley of Mendoza, Argentina.
The romantic winery name comes from a local legend in Mendoza. According to the legend, love betweens gods and mortals was forbidden, which caused Mapuche women to always look down out of fear of meeting the fierce gaze of a god. One day the most daring Mapuche woman walked with her head raised, and when she met the gaze of a god she met the gaze without fear and instantly fell in love. The god, touched by her love and courage, offered the woman an elixir to join him as an eternal being. In return, she gave him a home, "the young girl's house"—Ruca Malen—so they could together create a new lineage of legendary gods. The Argentine bodega strives to do the same with this wine.
There are two stories going on here when it comes to the wine "The Young Girl's House" produced: Bodega Ruca Malen, a quality Mendoza maker ("Modern, nicely crafted wines designed for the table, easy to drink"—Luis Gutiérrez/The Wine Advocate), and the U.S. importer, Hubert Opici, a legend in the wine world. I've included links to the winery website and links to an informative Opici's website video, plus a link to great interview by Gary Vanerchuk with Hubert Opici. If you are deeply into wine knowledge, you will enjoy the videos. If you are just sorta into wine, you will enjoy this bubbly. If both, you can thank me in the morning.
Ruca Malen Brut has glorious gold color, vivid acidity, bread notes from its year on the lees, cutting acidity and touch more sweetness than you might normally enjoy (at least my palate), but it all totally works when a winemaker knows how to pull it off. Ruca Malen knows how to pull it off. $25-28
Bodega Ruca Malen website
U.S. importer website
Vanerchuk interview