Light straw-yellow color; orange, apple, apricot on the floral on the nose (no petrol); apricot, nectarine, lemon, peach, spice on the palate.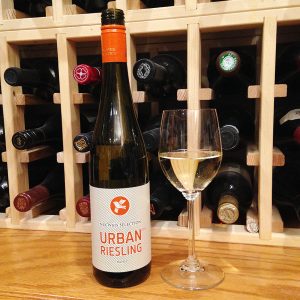 Off-dry with some sweetness; plenty of ripe tree fruit; smooth, satin mouth; racy acidity, some minerality, lively and at same time delicate—nice trick for a wine at this entry-level price for a Mosel riesling. This can serve as a good introduction to Mosel riesling: the price is right for nervous beginners, the off-dry will stay in the comfort zone of those who lean toward sweeter wine, while it is dry enough and has enough acidity that it should not evoke the scorn of those easily offended by the palate preferences of wine world newbies.
Weingut St. Urbans-Hof is a wine producer in the Mosel; it was founded by Nicolaus Weis in 1947 and has been managed by third-generation family member Nik Weis since 1997. The "Urban" name references St. Urban, the patron saint of German winemakers. Weingut St. Urbans-Hof wines come in two collections. White label wines, such as this one, are dry wines. Black label wines are fruity and sweet—Kabinett, Spätlese, and Auslese.
According to Nik Weis: "Urban Riesling is the gateway or the window to my world of wine. My name on the bottle, indicating that this wine is a 'Nik Weis Selection,' guarantees the same quality level I expect from my estate wines. It is my wine.
"Urban Riesling is a 100% Mosel Riesling from vineyards around the town of Mehring, hometown of my wife Daniela. My father-in-law is a grape-grower and has many friends with great properties in some very fine vineyard sites along the Mosel. Here Riesling vines enjoy ideal conditions on steep slopes creating a perfect angle to the sun's rays. Soil consists of beautiful blue, highly decomposed slate rocks that give the wines their great minerality, creating an appealing, somewhat salty finish. Temperatures vary from warm during the day to cool at night, facilitating elegance and a fruity acidity that produces a wide range of beautiful flavors.
"Vinification is minimalistic, true to the Mosel and the way my forefathers have worked. We do not de-stem; we conduct a slight maceration of grapes, gentle pressing and gravity-fed sedimentation. The only modern improvement is fermentation in temperature-controlled stainless steel tanks. We do not inoculate any cultured yeast. It is the indigenous yeast fermentation that gives complexity and character to this wine. In order not to lose any flavors, we do a very gentle filtration."
St. Urbans-Hof Nik Weis Selection Urban Riesling Mosel 2015 is an attractive, approachable, affordable Mosel riesling with enough fruity sweetness to pleasure a range of palates and enough seriousness to entertain more sophisticated sippers, too. $11-12
Photos: Weingut St Urbans-Hof winery; Nik Weis of Weingut St Urbans-Hof; Grape harvest at Weingut St Urbans-Hof