Dark ruby-red color with faint translucence; plum, spices, red fruit, oak hints on the nose; plum, black cherry, mocha, oak on the palate.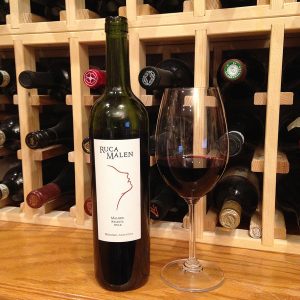 There is plenty to like in this rather uncomplicated, crowd-pleasing Mendoza malbec. Enjoyably concentrated fleshy, juicy fruit; easy-going, velvety tannin; adequate acidity for red (3.61 pH); nicely balanced; delicious. Leather emerges on the medium-long finish to add an intriguing note.
The winery's romantic name comes from a local legend in Mendoza. As the story goes, love between gods and mortals was forbidden, which caused Mapuche women to walk looking down out of fear of meeting the fierce gaze of a god. One day the most daring Mapuche woman walked with her head raised high, and when she met the gaze of a god she instantly fell in love. The god, touched by her love, beauty, and assertive confidence offered the woman an elixir to join him as an eternal being. In return, she gave him a home, "the young girl's house"—Ruca Malen—so they could create together a new lineage of legendary gods. Hey, it is a legend. Enjoy the story as you enjoy this easy-drinking wine.
There are two narratives going on here. First, Bodega Ruca Malen is a quality Mendoza maker. "Modern, nicely crafted wines designed for the table, easy to drink"—Luis Gutiérrez/The Wine Advocate (Robert Parker's publication).
The second story is the U.S. importer, Hubert Opici, who is a legend in the wine world.
Thus, I include a link to the winery website, a link to an informative Opici's website video, and a link to great interview by Gary Vanerchuk with Hubert Opici. Enjoy the video visits.
Ruca Malen Malbec Reserva Mendoza 2014 delivers all you desire in a Mendoza malbec. People put off by aggressive reds will find something to like, while folks who enjoy hanging with burly reds will not be disappointed because this is too wimpy. That is pretty much malbec's dead-center-perfect sweet spot. $16-19
Vanerchuk-Opici interview link
Photo: Bodega Ruca Malen