Nice light gold color with tincture of green; citrus, honeysuckle, white flowers on assertive nose; pear, lemon-lime, honeysuckle, baked apple, apricot on the palate.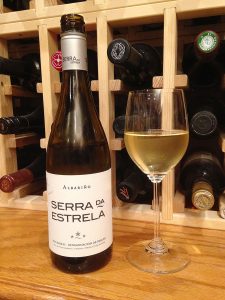 Nicely crisp with medium-full body; bright acidity balanced by hushed hint of sweetness (the honeysuckle note); fresh, clean. Fruit-forward in the modern albariño style. Pinch of sea salt minerality on the finish is a charming characteristic of wines from the region. This can stand on its own, but—especially with its minerality/salt hint—this will be terrific pairing with shellfish, lobster, other seafood.
The wine comes from Rias Baixas, a leading white wine producing region in Spain, and the only Spanish DO for white wine. Rias Baixas is known for whites in similar way Rioja is for Spanish reds. The vineyard that provides grapes for this effort is located in the O Rosal Valley, at the mouth of the Miño River emptying into the Atlantic Ocean and on the border with Portugal. According to the winery website: "O Rosal is one of the five sub-areas of the Rías Baixas Denomination, and is characterized by very special wines. Its climatology is smooth, without great thermal oscillations, and with a great mineral wealth in its soils. It has excellent conditions of maturation, making this valley in the ideal place for the cultivation of varieties of quality."
Albariño is a small, thick-skinned grape that resists fungal disease, which is important in Rias Baixas because the region receives so much rain. The grape is low yielding and expensive to cultivate—most vineyards use the pergola (parra) system for training vines, so harvesters must stand on boxes to reach the grapes. Rias Baixas is in northwestern Spain, hugging the border with northern Portugal. Across the border, literally on the opposite bank of the river, the grape is called "alvarinho" and is the principal grape used in vinho verde wines, although Portuguese also use the grape to make whites similar to this Spanish effort.
Adegas Valminõr Serra da Estrela Albariño 2015 is crisp with great fruit; its minerality emerges even more with some time in the glass. This can be outstanding seafood wine. $13-15
Photo: Adegas Valminõr winery