Ruby red color with translucence; floral nose with elements of raspberry, black cherry; red cherry, red currant tang on the palate.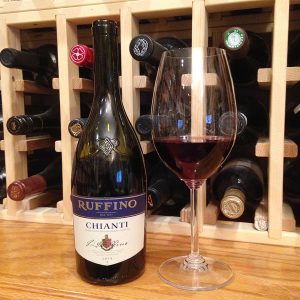 A minimum of 70% sangiovese—must be to satisfy the Chianti DOCG codes—with some merlot and cabernet sauvignon thrown in. Relatively light body, mild tannins, moderate acidity; dry, fruity easy drinker. Not complex, this is modern take on the simple Chianti table wine style of years ago that came in the straw-wrapped bottles and you could afford on your part-time job pay in college. Ruffino celebrated that era when they added this brand to their line in 1975, fashioning the Florentine bottle to suggest those times.
This works if you are looking for fun, pop-and-pour pizza or pasta night wine or as a second bottle when the party rolls on. Ruffino makes a very impressive lineup of serious, significant Chianti Superiore, Classico. Classico Riserva, and Classico Gran Selezione wines. This does not rise to those heights, but it sells for a fraction of their costs.
Ruffino is a benchmark maker, dependably committed to quality, a reason Italian wines are respected around the world. The Ruffino story began in the Tuscan town of Pontassieve, near Florence, and a small winery established by cousins Ilario and Leopoldo Ruffino in 1877; by the 1880s, they were winning awards; by the 1960s Ruffino sold wines in more than 100 countries. Today, ownership by Constellation Brands (a purchase completed in 2011) means this is widely available. Constellation is the world's leading premium wine company.
Photos: Ruffino winery; Ruffino vineyards