Salcheto Nobile di Montepulciano, Toscana DOCG 2016: Medium-dark garnet color; cherry, raspberry, plum, red berries, herbs, leather on the nose; cherry, plum, raspberry, strawberry, spice, minerality on the palate.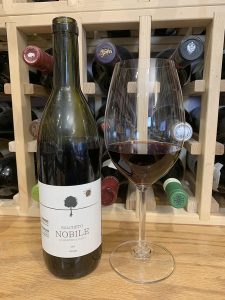 Dry; somewhat assertive, polished tannins balanced by good acidity (3.54 pH). Harmonious interplay of the rich, dark fruits, tannin, acidity. Medium-plus body. Good length. Smoky, slightly phenolic-sweet finish because of the rich, ripe dark grapes. Tasty, serious wine that also is an easy drinker. 13.5% ABV
Grapes are 100% sangiovese in the argot of Montepulciano. One bottle per plant. Certified USDA organic, Equalitas Certified Sustainable winery, wood materials from responsible sources. Fermented in wood and aged in large and small oak barrels for 18 months, then in bottle for at least six months—Vino Nobile di Montepulciano requires a minimum of two years of aging. The oak is pleasingly integrated with the ripe fruits.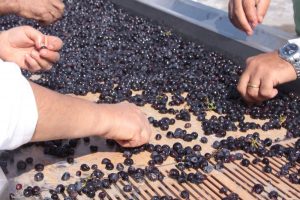 From the website: "Salco means the willow tree in the ancient Tuscan language, an important plant for wine territories throughout history as its branches were used to bind the vines. Salcheto is the name of the stream , which springs at the foot of the town of Montepulciano and winds through a valley where willows abounded.This stream is the boundary of our organic and biodynamic estate, rooted in the historic district of Vino Nobile, in the southeast of the Siena province of Tuscany. The willow tree, a species that we continue to replant at the winery, also contributes to the winery's energy independence, is today prominently represented in our logo as part of our commitment to environmental sustainability."
Salcheto was born more than 30 years ago when the property shifted direction from a classic farm sharecrop to an estate and winery focused on high quality and innovation. Goals included: reflect the terroir, sulfite-free winemaking, indigenous yeasts, become a model of environmental efficiency and technological innovation; implement an integrated environmental estate management model (greenhouse gas reduction, water conservation, biodiversity). Salcheto has a premier indexing of its carbon and water footprint.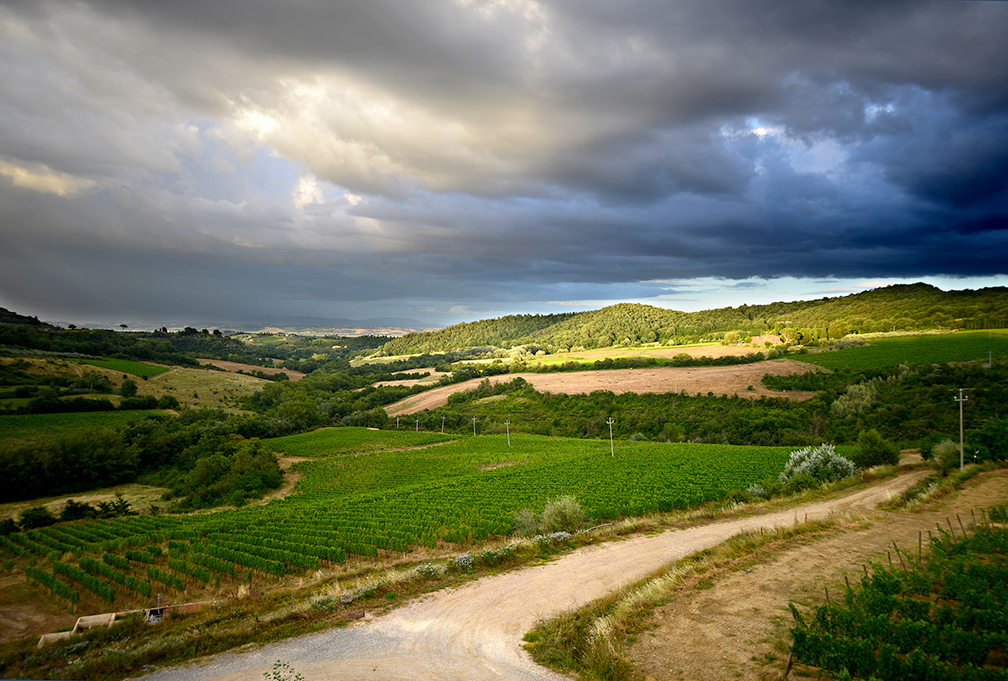 Vino Nobile di Montepulciano is a red wine—very predominantly sangiovese—region surrounding the town of Montepulciano. Sangiovese locally is known as "prugnolo gentile." The grape-growing and winemaking history has documented evidence from 789. Trade and export rules were established in documents in 1350. Vino Nobile di Montepulciano mentions date from 1685. When you are sipping this, you are sipping history.
Salcheto Nobile di Montepulciano, Toscana DOCG 2016 is a tasty, easy-drinking, fruit-forward, harmonious expression of sangiovese from Vino Nobile di Montepulciano. Splendid, subtle, elegant, round effort from a very environmentally motivated maker. Pair with grilled or roasted beef dishes; wild game—venison, wild boar (a classic pairing); roast pork; Tuscan sausage (another classic pairing); lamb; poultry, including chicken and duck; pasta with tomato-based sauces; aged cheddar, asiago, parmesan cheese. Excellent QPR (quality-price ratio) $20-26