Deep salmon color; peach, oranges, strawberry on the nose; peach, strawberry, citrus, lime, watermelon, tangerines on the palate.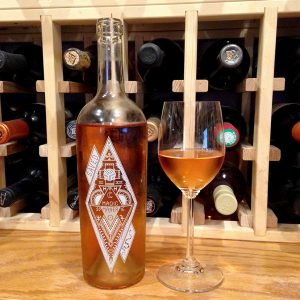 Dry; excellent acidity (3.2 pH); medium-light body; blend of grenache, pinot noir, cabernet franc, sangiovese. Pleasantly silky mouthfeel, nice balance. This is no sweet rosé by any means. There is some tartness on the initial attack, but that is followed surprising note of faint sweetness on the finish—intriguing trick. Distinctive label, pleasing color in the glass.
Saved Wines is a collaborative effort of second-generation California winemaker Clay Brock and Brooklyn tattoo/fine artist Scott Campbell. The "Saved" name comes from Campbell's Saved tattoo studio in Brooklyn (his inks appear on Johnny Depp, Kanye West, and Courtney Love to name-drop a few clients). Throw into the mix Campbell's smoking-hot wife, actress/director/screenwriter Lake Bell. Campbell designs the labels. He says he makes the wines look pretty and Brock makes the wines taste good: "My world is everything that's outside of the bottle. Clay's world is everything that is inside it." There are two Saved wines, a rich red and this rosé, which the website proclaims as "an unashamedly dry rosé."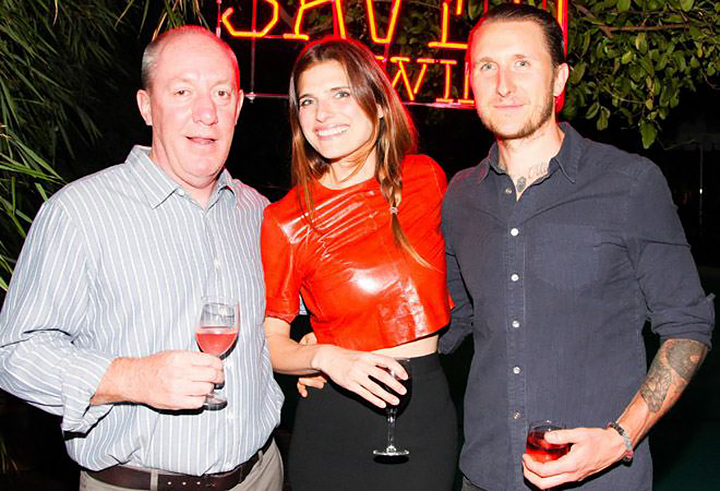 The wine is part of the Constellation Brands portfolio, the world's largest wine company. Constellation owns more than 100 brands in wine, beer, and spirits, including Robert Mondavi, Clos du Bois, Franciscan Estates, Ravenswood, Manischewitz, Arbor Mist and many more. Constellation's beer brands include Corona, Modelo Especial and more. Spirit brands include Black Velvet Canadian Whiskey, Svedka Vodka and more.
Constellation's story opens in the Finger Lakes region—Canandaigua—of northwestern New York State in 1945. Through internal expansion and brand acquisitions, they became the world's largest wine producer. In many cases, Constellation built its worldwide brand by allowing individual wineries/wine makers to do what made the winery/winemaker attractive to Constellation in the first place, although Constellation does work to ramp up production and play to mass consumer tastes. In this case, they paired one of the world's most influential tattoo artists—and artist beyond human skin—with a renowned winemaker. It works.
Saved Magic Maker Rosé 2016 is fun, easy drinking, clean, every day wine. Smooth and delicious. Dry, fruit-forward is the direction rosé wines go these days, and why they have become so popular. Forget about the sweet, insipid rosés of decades past. Will do very well as a summer fun-on-the-patio wine, but can be enjoyed any time of the year. This is versatile food wine; pair with seafood; oysters; garden salads; hummus and fresh pita; smoked gouda and gruyère cheese; also can work with beef, veal, pork, poultry. $14-16