Medium ruby color; blackberry, cherry, elderberry, roasted bell pepper on the nose; blackberry, sour cherry, chocolate, vegetal (bell pepper/green bean), pepper on the palate.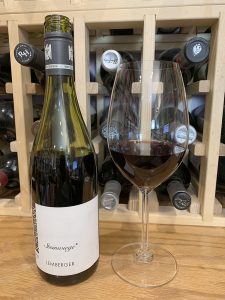 Dry (troken); reserved, refined tannin; medium-plus acidity; medium body. Silky in the mouth. Juicy without bringing heavy fruit. Bright. Clean. No sulfur added in the making. Tasty, versatile. Comparison would be to pinot noir or gamay. Sometimes it is called the "pinot noir of the East." 12.5% ABV
Lemberger, also known as Blaufränkisch, always has a subtle touch of vegetal. This tracks with the profile, but lemberger's bell pepper/green bean note is a feature, not a flaw. While this is not a well-known wine—in part because it has so many different names—it is grown around the world and is an important red grape. It buds early and ripens late, which can cause problems, but it can produce high yields without significant loss of quality. When over-cropped, the green, vegetal notes become more pronounced. The subtleness of the bell pepper and green bean notes indicate this was appropriately farmed.
Germany has some 4,300 acres of lemberger, most planted in the Württemberg region, where this came from. Württemberg generally is considered the best red wine production region in Germany. Lemberger is the second-most planted red grape in Austria and in the Czech Republic. Hungary, where it is known as Kékfrankos ("Blue Frankish), it is planted on almost 20,000 acres. It is planted across the U.S. and particularly has a long history in Washington State. Its principal drawback is an association—by similarity in name only—to smelly limberger cheese. Blaufränkisch has the problem of pronunciation difficulty, so in the U.S. you likely are to see it identified as "Blue Franc" or "blue frankish."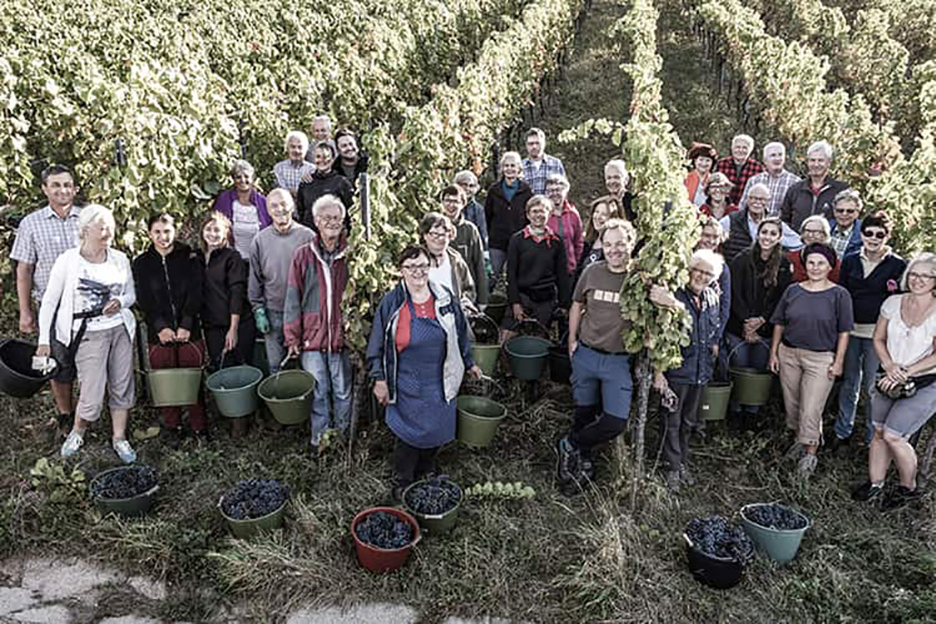 Weingut Schnaitmann (weingut is German for winery) has deep history. According to church records, the first 19 generations of Schnaitmanns (and Schnaitfraus) likely traveled from the Styria region of what is now Austria to Fellbach some 600 years ago. There has been an unbroken line of grape growers in the family ever since. It was not until 1997, however, that the family began harvesting grapes for their own label.
The winery prides itself on attracting talented and dedicated employees through an apprentices program. And then keeping them in the company. In June 2000, a hailstorm stuck all of Fellbach's vineyards, destroying the vintage. Schnaitmann did not collapse in despair, they set out immediately to buy grapes from those who did not experience the misfortune, then expanded operations in wider area of Rems Valley.
The website notes: "A former intern put us on to vineyards in the Zabergäu, which have helped mitigate the risk of hail and expanded our portfolio to include new soil and micro-climates unique to the Unterland region. We've now grown to 26 hectares, often very small parcels that we cultivate strictly organically with our team."
Schnaitmann Steinwiege Lemberger 2017 is a lighter red you may not be familiar with, or familiar with it under another name. If you enjoy pinot noir or gamay wine, this clearly a wine to put on your to-drink list. Smooth, almost delicate, delicious. Lemberger/Blaufräkisch is famously versatile with food. Pair with grilled lamb; lamb gyro; duck or chicken; tomato-based pasta; pork; smoked sausage; potato goulash; Mediterranean fare in general. Could be enjoyed served chilled on a summer afternoon by pool or on patio, porch, picnic. $30-37