Deep ruby color; black cherry, blackcurrant, blackberry on the nose; black cherry, blackcurrant, blueberry, cherry compote, earth, sliver of chocolate, splinter of oak spice on the palate.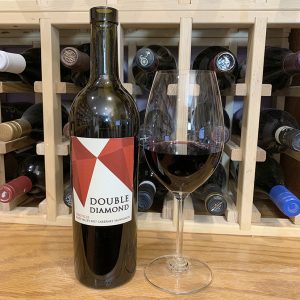 Dry; very rich and powerful with adroit balance. Schrader makes ultra-premium wines with grapes from the top levels of Napa vineyards such as Beckstoffer To Kalon. This is their "entry level" peek into that world. It is almost 100% cabernet sauvignon, but there appears to be a dash of merlot. Aged in French oak barrels for more than a year. Tasty tannins, especially after decanting, which is recommended; 14.8% ABV.
Made by star winemaker Thomas Rivers Brown. During his 20-plus years at Schrader, Brown has delivered more than 27 perfect 100 point scores. Double Diamond is not in that rarified atmosphere, but it easily scores in the 90s if you are into wine scores. Medium-full body. Elegance with earthy notes—a farmer in a tuxedo who could not eliminate all the dirt under this fingernails.
Schrader is a happenstance operation. The website notes: "In 1988, Fred Schrader was a thriving dealer in the world of art and antiques when his good friend and Christie's auctioneer, Brian Cole, invited him to the Napa Valley Wine Auction, a newly formed charity event. A lover of wine and adventure, Fred happily accepted the invitation and soon found himself enjoying delicious wines while spending time with some of the valley's most notable founders.
"Amazingly, this weekend getaway evolved into a 25-year love affair with the Napa Valley as well as launched his career in the wine industry."
Visit the Schrader website to scroll through the entire, interesting story. Video visit includes description of the clone 4 cabernet, clone 6 cabernet, and clone 337 cabernet qualities that go into Schrader wines. Like all high end, high quality wine makers, it all starts in the soil and vineyard capabilities. Schrader enjoys access to Beckstoffer To Kalon vineyard in Oakville.
The website notes: "Originally planted by pioneer Hamilton Crabb in 1868, To Kalon—meaning 'highest beauty' in Greek—is a noble first growth estate in Oakville that has established itself as the preeminent source of Napa Valley's finest grapes. The vineyard is defined by its high mineral content and exceptional drainage, offering optimal north-south sun exposure by day with cool coastal breezes at night that we feel is the ideal environment for growing our Cabernet Sauvignon."
Schrader Cellars Double Diamond Oakville Cabernet Sauvignon, Napa Valley 2017 delivers fruit-froward, hedonistic layers of flavors, dominated by bold, dark, delicious fruits with background notes of earthiness. It offers an affordable look into the world of ultra-premium, trophy Napa wines. Pair with steak and rich meats in general; prime rib; roast beef; lamb; cured meats; hard cheese. $77-82