Medium gold color; apricot, lemon, honey, herb tea on the nose; Meyer lemon, honey, pineapple, apricot, brioche, beeswax on the palate.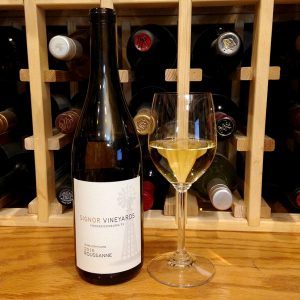 Dry; medium-full body. Tartness from the lemon and pineapple notes is balanced by apricot and roussanne beeswax-oiliness. The mixture gives the impression of more acidity than it is (3.65 pH), but it all will serve well with food pairing, nonetheless. Hint of tannins, moderate alcohol—13.5% ABV, medium-full body. All of that is down the middle of a roussanne wine profile.
Roussanne is primarily associated with southern France, where it often blends with grenache blanc, marsanne, and viognier. The name comes from the "roux"—russet color of the grapes. Texas growers are embracing this grape while keeping their fingers crossed because roussanne is not drought-tolerant. Drip irrigation to the rescue.
Signor is one of the newest wineries on the Texas wine road, Hwy 290. Signors magnificent tasting center was built as a private home in 1998, designed by noted architect Isaac Maxwell. The Signor family later purchased the property with the goal of creating a winery and tasting room. The venue is spectacularly elegant.

The Signor family has deep roots in Texas, reaching back to the 1850s. The Signors and Weisinger families were close through generations, starting in the 1950s when Lee F. Signor purchased land north of Houston from Melvin Weisinger. The Weisingers have Texas roots, but their offspring also turned to winemaking and established bona fides in Oregon's wine country. Texas wine country and Oregon wine country are not that much different—both are in desert/dry regions. In Oregon, the rain forests are on the western side of the Cascades, the wine country in the dry eastern regions where rainfall is even less than in Texas wine regions, including the dry High Plains AVA where these grapes grew.
In 2014, Clay Signor approached John Weisinger about dreams to build a vineyard and winery. Today, Clay Signor and Eric Weisinger (John's son) have come together as friends and winemakers. The website notes: "Three generations of friendship has shown us the value of an extended family. And it's with this in heart that we invite you to become part of our extended winery family."
The Weisingers have wineries in Oregon, and many of the Signor offerings now are made with Oregon grapes. All the wine is made by Eric Weisinger in Oregon, even wines using Texas grapes (such as this offering). By all indications, this is a transition situation as Signor vineyards mature—it takes three years for a vine to produce wine, more years than that to hit their quality stride. Work on a winery has begun. The goal is to achieve all Texas wines made in Texas in the future.
Signor Vineyards Roussanne, Texas High Plains 2016 is classic roussanne. It is not delicious in the round, soft, slurping sense. Rather it is a serious wine, a serious food wine. Sophisticated palates will enjoy it even solo, appreciating the tartness and precision of the grapes. If that is not you, the best way to appreciate it is paired with roast chicken, pate, pork, veal, spicy flavors, Asian cuisine, pasta dishes with rich and creamy sauces, and both hard and soft cheeses. As you can see, it is a white wine that pairs more like a light red. $30