Pale straw color; white fruits, almond, spice on the nose; pear, yellow apple, lemon–lime, peach, minerality–saline on the palate.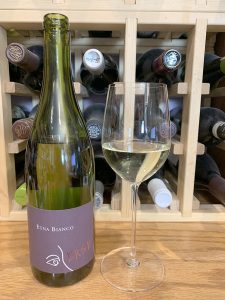 Dry; medium body; medium acidity. Balanced easy drinker. Blend of 90% catarratto, 10% minnella. Fresh. Pleasing minerality–saline appears on mid-palate and extended finish, auguring this as an excellent food wine. No oak; vinified in stainless steel. 12% ABV
Erse is named for the Greek goddess of dew, a nod to the vineyard in the morning when it is dew-kissed and at its most picturesque. Sicilian wines are heavily influenced by the volcanic soils of Mount Etna, the most active volcano in Europe. That contributes to the minerality of this effort, plus the close proximity to the Mediterranean provides the saline boost. Minerality and salinity are major elements of this wine, but so are the clean, tasty white fruit notes.
The winery is the trailblazing dream of Silvia Maestrelli. The website notes: "Pioneer and women—among the producers who have given new impetus to enology on Etna, Silvia Maestrelli—comes from a Florentine entrepreneurial family, she emigrated to Milan for love—arrived on Etna in 2006, on the trail of falling in love with this land rich in contrasts. A real coup de foudre for a difficult land, strongly masculine, but of enormous charm and equally great enological potential. Thus began a new phase for her life and a research, both personal and professional, which will give life in 2007—after long and detailed negotiations with the ancient and numerous landowners—at the birth of Tenuta di Fessina. A project in which the sensitivity of a 'feminine' oenological vision, combined with the unquestioned technical skills of consultants and collaborators, has allowed us to create in just 10 years from the foundation one of the most successful and recognizable cellars in the Etna area, perfect ambassador in the world of new Sicilian viticulture."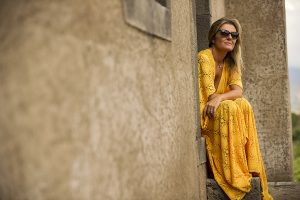 This comes from the Rovittello production area. The tech sheet notes: "Fessina has a particular position: the semicircular ridge that surrounds the vineyard creates a micro-climate that allows the grapes to ripen slowly and completely, giving the wine unique elegance and complexity that are refined in the bottle giving austerity and longevity."
Tenuta di Fessina Erse Etna Bianco 2017 is bright and fresh with a significant dash of minerality and saline, especially on the finish. Clean. Balanced. Excellent lunch on a summer day drinker, especially with somewhat reserved ABV. The claim is 12%, but it drinks like it is less than that—ABV percentage are notoriously guesses rather than scientific precision numbers. Pair with fish, seafood, shellfish; vegetarian fare; appetizers and snacks. Chill it down and enjoy as a picnic wine by itself or paired with range of foods. $23-26