Deep ruby color; cherry, hibiscus on the nose; cherry, plum, strawberry, pomegranate, clove, vanilla on the palate.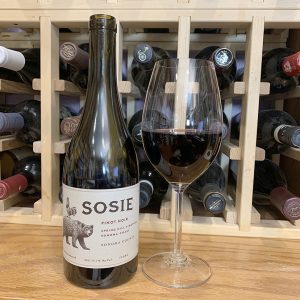 Dry; hint of sourness in the cherry; unique flavors—this is different from Carneros/Russian River pinot noirs. Drinks like Burgundy pinot rather than California effort. Not as etherial as Washington State/Oregon effort, richer and more body than a Burgundian bottle. The website sums it up: "It tastes like Spring Hill." Yes, pinot noir, does that terroir thing.
There is oak in this, thanks to 16 months in 25% new oak. Sosie prides itself on being conservative with oak: "We are very particular about the barrels we use—the cooperage, the amount of 'toast' they receive, and of course, how long the wine stays in them. All of these things contribute to how much flavor is imparted. The telltale aromas of oak—vanilla, spice, clove, caramel—are desirable but only in moderation. Our aim is to court the effect of oak, not its flavor."
Twenty percent of the grapes were whole cluster, adding depth, structure, rich fruit flavor. The stems provide compounds not found in fruits and seeds, the major flavor contributors to most wines. Sosie also prides itself on use of wild—"ambient"—yeast to bring forth complexity and depth of aromas and flavors. This is built to be food friendly, thus 13.1% ABV, which means it complements food rather than competes against it.
The Spring Hill vineyard sits on a windblown ridge, seven miles from the ocean at it lowest point. The location is in the Petaluma Gap, which is a conduit for cold air and fog off the Pacific. Sustainable practices include composting, natural cover crops of Lupine, crimson clover, California poppy and rye. Owls keep the vineyard free of rodents. The vineyard is dedicated to pinot noir; berries are quite small and yields can be less than one ton per acre. In addition to grapes, there are herds of Wagyu and Scottich Highland cattle.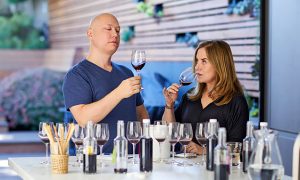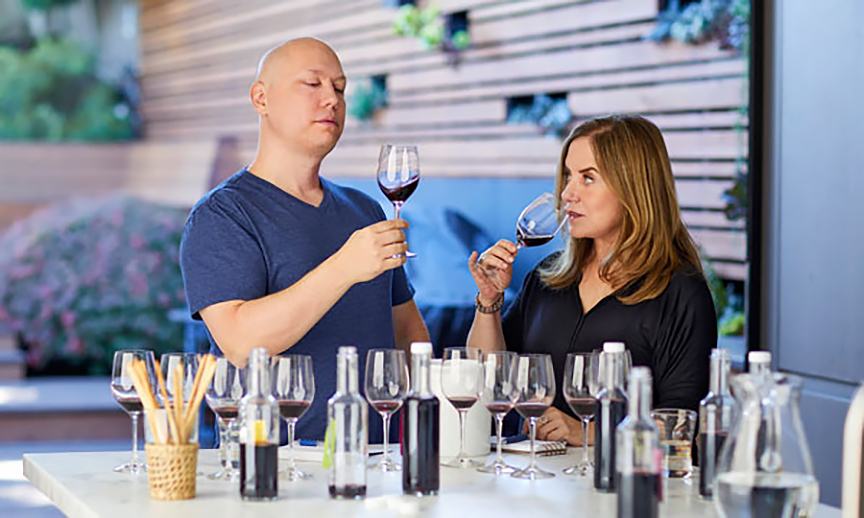 The Sosie website explains the mission of its principals Scott and Regina and the winery name: "When we got into this business, it was with the conviction that our wines would stand for something. That they would not just have a style, but a purpose. We were going to craft our wines to be food-friendly. So: lower in alcohol, higher in acid, structured and layered and made in small batches with minimal intervention and the lightest touch of oak. What name might convey all that?
"We went round and round until we ran out of ideas. So we hired a writer and gave him a brief: New world wines for old world palates. He gave us 50 names, about half of them French. This made our heads swim. But when we evaluated them based what the words mean, how they sound, how distinctive they are, Sosie (so-zee) rose to the top. It's French for "twin or spitting image," which neatly summarized our winemaking aspiration. The fact that it sailed through the trademark gauntlet proved just how original it was."
Sosie Wines Pinot Noir, Spring Hill Vineyard, Sonoma Coast 2015 elegant, delicious, drinks more Burgundian than Cali pinot. More body than Burgundy. Good acidity. Respectful use of oak. Whole cluster added depth, rich fruit flavors. Nice structure. Pair with the usual pinot noir suspects—salmon and other fatty fish; seared tuna; roasted chicken; pasta dishes; stews like beef bourguignon; rack of lamb. $43