Medium amber color; strawberry, cherry, roses, apple on the nose; strawberry, cherry, watermelon, red fruits on the palate.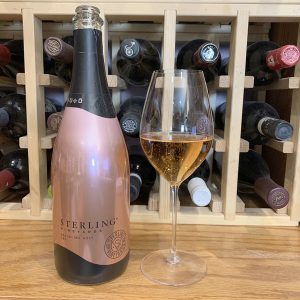 Brut; excellent acidity (3.32 pH). I have reviewed the non-vintage version of this wine before and the tasting notes from the NV track with this vintage version. The winery notes 2016 was excellent year with early warm temperatures and even weather throughout the growing season, leading to an earlier-than-normal harvest. California's drought reduced yields but concentrated quality in Napa Valley and Monterey County. The quality of the harvest is likely why Sterling decided to make it a vintage sparkling.
Persistently nice and flamboyant bubbles. Made using the charmat method (closed tank rather than the traditional method where secondary fermentation is in the bottle). Reduces price but still achieves quality. Creamy texture. Fresh, refreshing, bright. Acidity and bread notes on the clean finish. Blend of 70% chardonnay, 30% pinot noir; 12% ABV.
Sterling Vineyards began when British international newspaper owner Peter Newton purchased land near Calistoga in Napa Valley in 1964 and established the vineyards. In quick succession, he purchased more land and, in addition to cabernet sauvignon, planted merlot (then virtually unknown in Napa), chardonnay, and sauvignon blanc.
In 1971, Martin Waterfield—an officer in Newton's company—designed a Mediterranean-style white stucco winery complex inspired by structures on the Greek island of Mykonos, where Newton once lived. Today, the beautiful complex is one of the most-visited in Napa.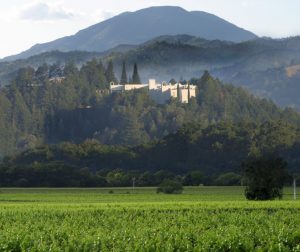 The Newton family sold the winery and vineyards to Coca Cola in 1977. In 1982, Coca Cola sold to Joseph E. Seagram and Sons, and Sterling quickly became the crown jewel of Seagram's wine efforts. Between 1982 and 2000, Sterling's yearly sales jumped from less than 60,000 cases to 400,000. Even better, quality improved.
In 2001, Diageo—a United Kingdom drinks conglomerate—purchased Seagram and mixed Sterling into its existing wine business. In 2015, Diageo sold most of its wine business to Treasury Wine Estates, an Australian-based global winemaking and distribution operation that traces its roots to Penfolds Wine and Foster's Group beer brewers.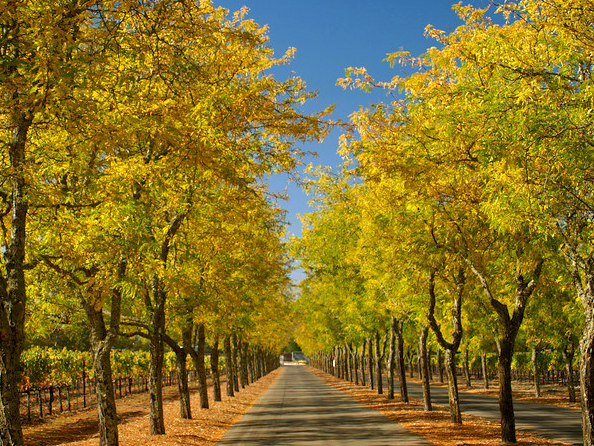 Treasury is a major international player in the wine world, making wine in 12 countries, selling more than 35 million cases of wine a year, and generates more than $2 billion in sales. Labels you may recognize beyond Sterling include Stags' Leap, Beaulieu Vineyard, Beringer, Chateau St. Jean, 19 Crimes, Walking Dead, Greg Norman Estates, Lindeman's, Wolf Blass, and their flagship—Penfolds.
That history represents lots of changes and marketing directions for Sterling. Treasury tends to focus on commodity wines sold in supermarkets and liquor-beer-wine stores, which is where Sterling Vineyards largely resides today. This effort is an example that Sterling delivers solid wine at its price points. It is widely available.
Sterling Vineyards Sparkling Rosé 2016 fruit-forward, versatile, tasty from superior vintage. Excellent QPR (quality-price ratio). Bushel of tasty strawberries and red fruits, including a wedge of watermelon. Food-friendly acidity. Very vigorous, fine perlage. Sparkling rosé is enormously versatile. With its color and fruitiness, this is a delight as an aperitif. You could pair this with everything from a breakfast omelette to dinner deserts (chocolate covered raspberries, for instance). Pairs especially well with greasy, fried, and spicy dishes; barbecue; fried chicken; creamy risotto; smoked salmon; seared scallops; brie and prosciutto. $22-25