Deep copper color; strawberry, kiwi, cranberry on the nose; strawberry, cherry, raspberry, pink grapefruit on the palate.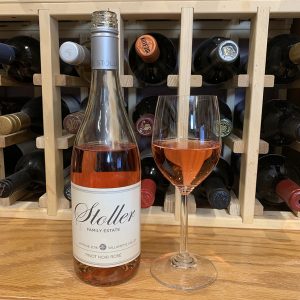 Dry; good fruit; superb tartness and acidity (3.01 pH); bright and juicy. Straightforward, well made Oregon pinot noir rosé. Balanced, refreshing, good mouthfeel. Whole cluster pressed. Fermented in stainless steel. No oak influences.
With its deep color and fruit, this must have spent more time on the skins than average rosé; medium body as a result. That noted, this struggles to be distinctive. It is a nice Willamette Valley rosé. Nothing wrong with that. Good but not great is an achievement many wineries would welcome. Stoller often delivers more, but this is solid effort; 12.5% ABV.
Owner Bill Stoller is the founder and CEO of The Stoller Group, also the president and vice-chairman of Express Employment Professionals, and founder and CEO at Xenium HR & Employer Services. A native Oregonian, Stoller holds a bachelor's degree in business and economics from Pacific University, and an MBA from Portland State University. His considerable successes in employment services allowed him to pursue his passion for wine.
Stoller gained part ownership of Chehalem Wines with Harry Pederson-Nedry in 1993. He founded Stoller Vineyards in 2001. Their winery opened in 2006 as Oregon's first and only LEED-certified, solar powered, gravity-flow operation. Its drive for sustainability earned the winery the world's first LEED gold certification. It is dedicated to producing pinot noir and chardonnay.
Winemaker Melissa Burr has been at Stoller since 2003. Burr says the challenge at Stoller is to control the vigor of the site in order to concentrate flavors. She strongly believes acidity plays key role in balance and flavor, and this effort reflects that. The Dundee Hills are located southwest of Portland, OR, beside the Willamette River. Stoller has the largest contiguous vineyard in the Dundee Hills and the fruit for their wines is 100% estate grown. Lovely country, ecologically responsible wine maker, very nice wines.
Today, the Stoller Wine Group brands include Stoller Family Estate, Chehalem, Chemistry, History, and Canned Oregon. The link below will lead you to more information about their various offerings.
Stoller Family Estate Pinot Noir Rosé, Willamette Valley 2018 is a nice, solid, middle-of-the-road Oregon pinot rosé. Good fruit with more body than average rosé. Excellent acidity. Serve this cold. With its deep color and good fruit, this will work nicely as an aperitif or as a simple sipper on deck, patio, pool side. Rosé wines are extremely flexible for food pairing. With this wine's weight and excellent acidity, it can move past the usual suspects of fish, seafood, and salads and handle grilled meats such as flank steaks. $22-25