Deep ruby color; dark red fruit, oak, tobacco, bell pepper on the nose; raspberry, strawberry, dark cherry, ripe plum, pepper, smoke, oak spice, chocolate on the palate.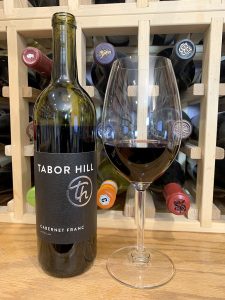 Dry; mild tannin and acidity. Soft, easy in the mouth. Medium body. Touch of sweetness from ripe fruit, but no residual sugar. 100% cab franc grapes from southwest Michigan wine country—Lake Michigan Shore AVA. Noticeable oak from 20 months in barrel, but not overwrought. 13% ABV
Cabernet franc is one of the major black grapes in the world. It is the progenitor of both cabernet sauvignon and merlot, with who it is often blended. Cab franc is lighter than cabernet sauvignon. It usually contributes finesse and peppery notes to its more assertive offspring—cabernet sauvignon. It is more similar to merlot with its softness and roundness and often has been mistaken for merlot in field blends. It tolerates cool growing conditions, thus its increasing popularity in Michigan and the Finger Lakes region of New York State.
You may not link Michigan and wine off the top of your head, but Michigan is the sixth-largest wine producer in the U.S., nudging ahead of North Carolina, Virginia, Illinois, and Pennsylvania. Each of the five states produces in the 2.8-to-2.1 million gallons of wine range. By comparison, California produced some 685 million gallons, Washington State 35-plus million gallons, New York 28.5 million gallons, Oregon some 11 million gallons, Texas more than four million gallons.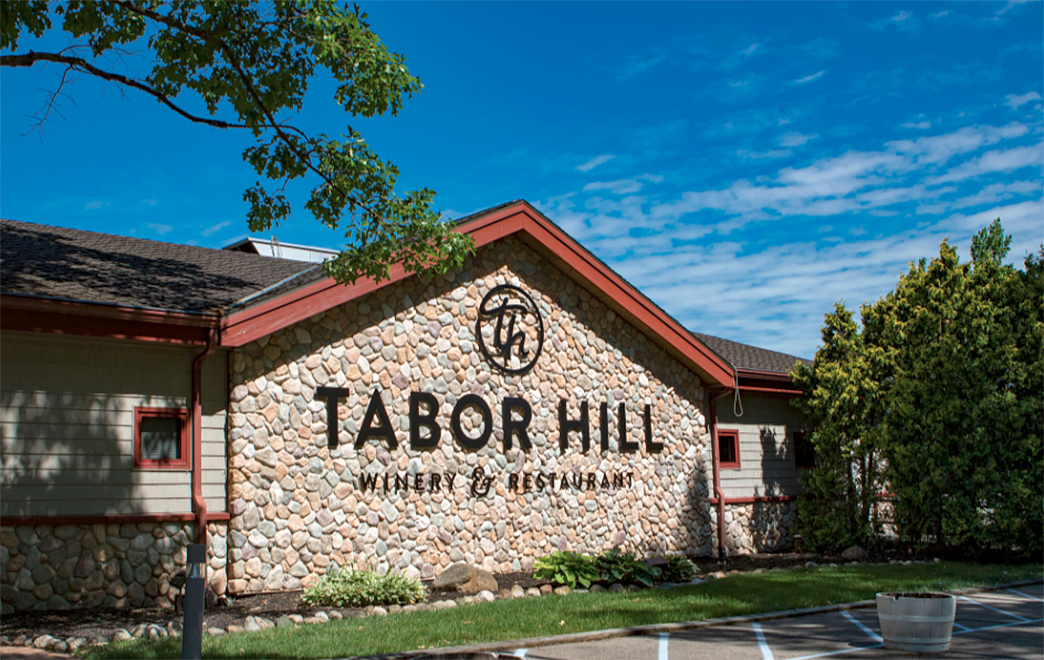 Tabor Hill is part of the Moersch Hospitality Group. The website notes: "The story begins with our pioneers, Rick and Sherrie Moersch, college sweethearts and school teachers. After Rick was sought out to run the wine lab at Tabor Hill Winery, they fell in love with the vintner life. It wasn't long before Rick and Sherrie purchased a 28-acre farm right next door where they planted. They then grew and sold grapes to Tabor Hill. Years later, they opened their own winery, Heart of the Vineyard."
In 1997 they purchased an Amish round barn which became the Round Barn Winery. Next came Free Run Cellars in 2006, then the Round Barn Brewery & Public House in Baroda. Finally, in 2017, they returned to their beginnings and purchased Tabor Hill and all its properties.

Tabor Hill Winery Cabernet Franc, Lake Michigan Shore NV is enjoyable, approachable, pleasant. Soft with rich, ripe, tasty darker fruits. Good change of pace for merlot lovers. Struggles some to be distinctive, but certainly brings no embarrassment to the Michigan wine industry. Pair with lamb; pork loin and roast pork; meat-based pasta with tomato sauce; beef in general; burgers; meatloaf; pizza; turkey; roast duck; venison. Cheese—feta, goat cheese, brie, blue cheese are classic with cab franc. $20-28