Deep ruby color; red fruits, black cherry, raspberry, red apple, chocolate, nutmeg on the nose; red plum, black cherry, raspberry, blackberry, cedar, leather on the palate.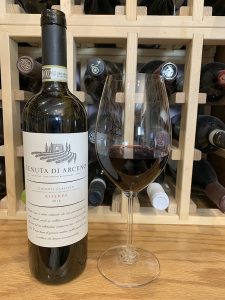 Dry; ripe, taut tannins with good balancing acidity. Shows the rustic side of Chianti, especially in the mid-palate. Some oak; this spent 10 months in French barrique barrels, then aged in bottles an additional 14 months to earn the riserva status. Full, dense, lush in the mouth. Blend of 90% sangiovese, 10% cabernet sauvignon.
Founded in 1994, Tenuta di Arceno is part of the Jackson Family Wines group. The winery is located in Tuscany's Chianti Classico region where wine has been made for more than 3,000 years. The La Tenuta property, located near the medieval village of San Gusme, covers 2,500 acres of rolling hills, green forests, ancient Cypress trees, sun-drenched fields, olive groves, medieval stone buildings, and vineyards. The winery focuses on Chianti's signature sangiovese grape. It also grows smaller percentages of merlot, cabernet sauvignon, and cabernet franc.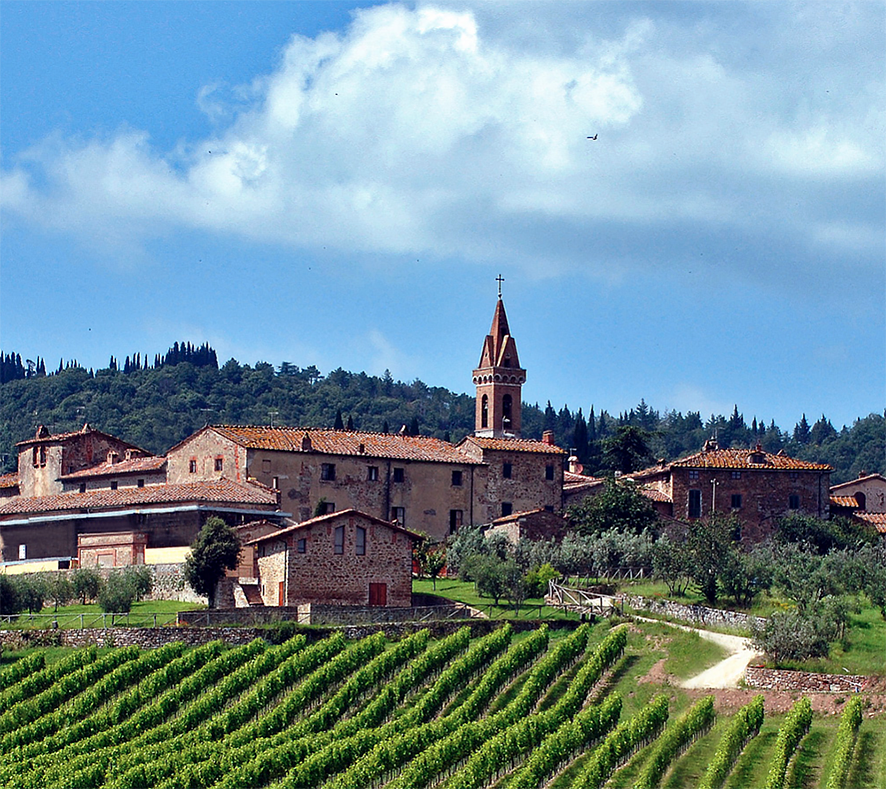 Pierre Seillan is the vigneron and winemaster. The website notes: "Vigneron Pierre Seillan first began working with Cabernet Franc five decades ago at his family's estate in Armagnac. He later moved on to the Loire Valley, and then spent twenty years in Bordeaux before being lured to California in 1997. Pierre Seillan has spent the past five decades perfecting his micro-cru philosophy to create world-class wines. His passion lies in crafting wines from diverse terroirs, using the same approach to capture the unique expressions of Sonoma County, Bordeaux, and Tuscany in each vintage."
Lawrence Cronin is the the winemaker. The website notes: "Growing up in New York City, Lawrence Cronin was always aware of his Italian heritage. His mother's family goes back hundreds of years in the small town of Castellammare del Golfo, a picturesque fishing village on the northwest coast of Sicily. Visits to the old country during his youth made the relocation relatively seamless years later when Lawrence moved to Tuscany to make wine at Arceno."
Michele Pezzicoli the the vineyard manager. The website notes: "Arceno's Vineyard Manager has been with Arceno since 1995. He is originally from Apulia, where he earned a degree in Agriculture Studies from the Institute of Agricultural Technology at Cerignola, and later worked at several respected wineries before moving to Chianti in the 1980s."
Barbara Banke is proprietor and chairman of Jackson Family Wines. She is the widow of Jess Jackson, founder of Kendall-Jackson. Kendall-Jackson's Vintner's Reserve Chardonnay has been the best selling chardonnay in America for the past three decades. Kendall-Jackson produces more than 1.7 million cases of wine a year and is the 13rh largest wine operation in the U.S. It exports to more than 40 countries worldwide. Banke's children, Christopher, Katie, and Julia have been involved in the rejuvenation of Tenuta di Arceno.

Tenuta di Arceno Chianti Classico Riserva DOCG 2016 is a rich and tasty classic Chianti. Red and black fruits are delicious. Nicely integrated and balanced. Expressive and elegant vintage when early September rain postponed the harvest and allowed grapes extra time to ripen on the vine. Well structured. Good to drink now, but also can be held several more years for aging. Pair with steak Florentine; chicken cacciatore; French onion soup; red sauce pastas—meaty ragu, spaghetti bolognese; leg of lamb and lamb chops; roast beef; duck; venison; meat-lover pizza. $22-30