L'Ecole No. 41 Merlot Columbia Valley 2018: Deep ruby color; black cherry, plum, raspberry, cedar on the nose; black cherry, raspberry, plum, coffee, chocolate on the palate.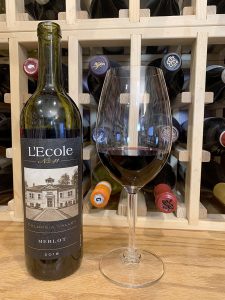 Dry; tight with tannic bite on pop-and-pour; smooths out with decant, but remains on assertive merlot with clear aging potential. Blend of 80% merlot, 14% cabernet franc, 4% malbec, 2% petit verdot; the supporting cast of grapes play a role in this drama. Good acidity for a big red wine (3.68 pH). Full body. Good structure and length. 14.5% ABV
L'Ecole No. 41 Merlot Columbia Valley 2018 overflows with rich dark fruit. Elegant and refined after some time in air, this also will benefit for more time in bottle with a drinking window into the 2030s. You know you are in for an excellent experience when you pull cork on a L'Ecole, and the winery is long recognized as one of Washington State's top producers of merlot. This advances that reputation. Same time, if you opt for merlot for its softness, plushness, cushy tannins, this may not be for you until you decant for extended hours or lay down in your wine fridge for several more years.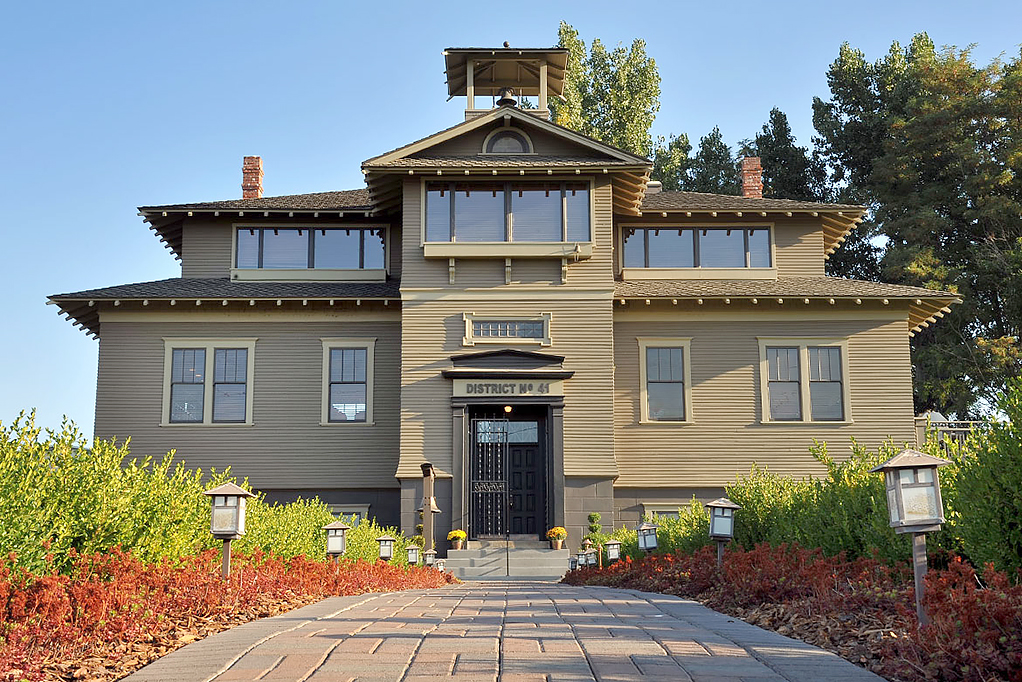 L'Ecole makes a white label and a black label merlot. White labels focus on terroir. Black labels focus on grape variety. This is a black label, so the emphasis is on the region of river drainage of the Columbia River, including the Yakima, Snake, and Walla Walla rivers. The region is in the rain shadow of the Cascade Mountains with a dry, sunny, and warm climate. Black label has more production and distribution than white label (and lower price), so you have a good chance of finding this wine, or contact the winery for online purchase.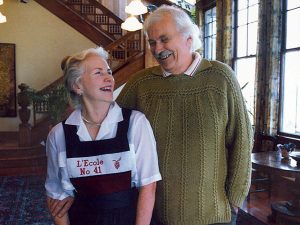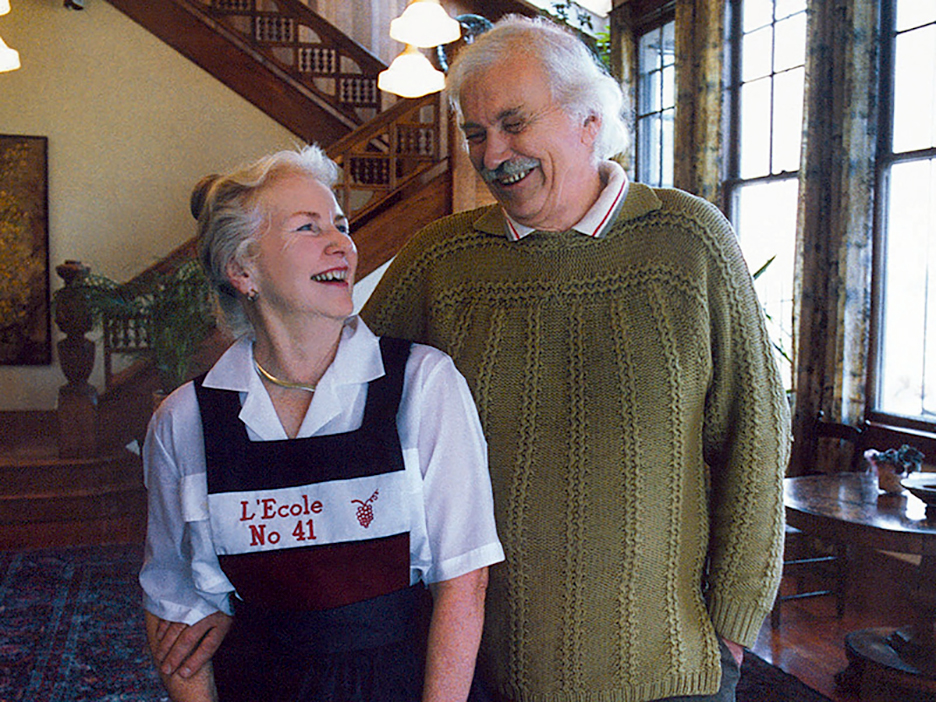 Baker and Jean Ferguson founded the winery in 1983 in the Walla Walla Valley, just the third winery in the Valley. It is housed in the historic Frenchtown School, which appears on the label. L'Ecole wines focus on quality and typicity of Washington State in general and the Walla Walla Valley in particular in their white label offerings. The Ferguson's daughter, Megan, and her husband, Marty built on the Ferguson's legacy. A third generation, Riley and Rebecca, participate in the winery today.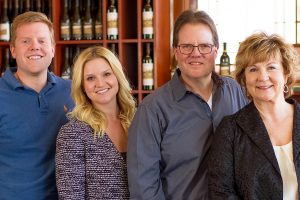 The website notes: "Our focus is to produce ultra-premium, distinctive wines that reflect the unmistakable typicity of Washington State and the unique terroir of our Walla Walla Valley vineyards.  We are engaged in growing and making 100% of our wine. Each bottle is handcrafted with a commitment to quality in the vineyards and the winery. More than three decades of winemaking experience, ongoing investments in our Walla Walla Estate Ferguson and Seven Hills Vineyards, and long-term relationships with many of the most prominent vineyards in Washington State are central to our well-known reputation for quality and consistency across our wine portfolio."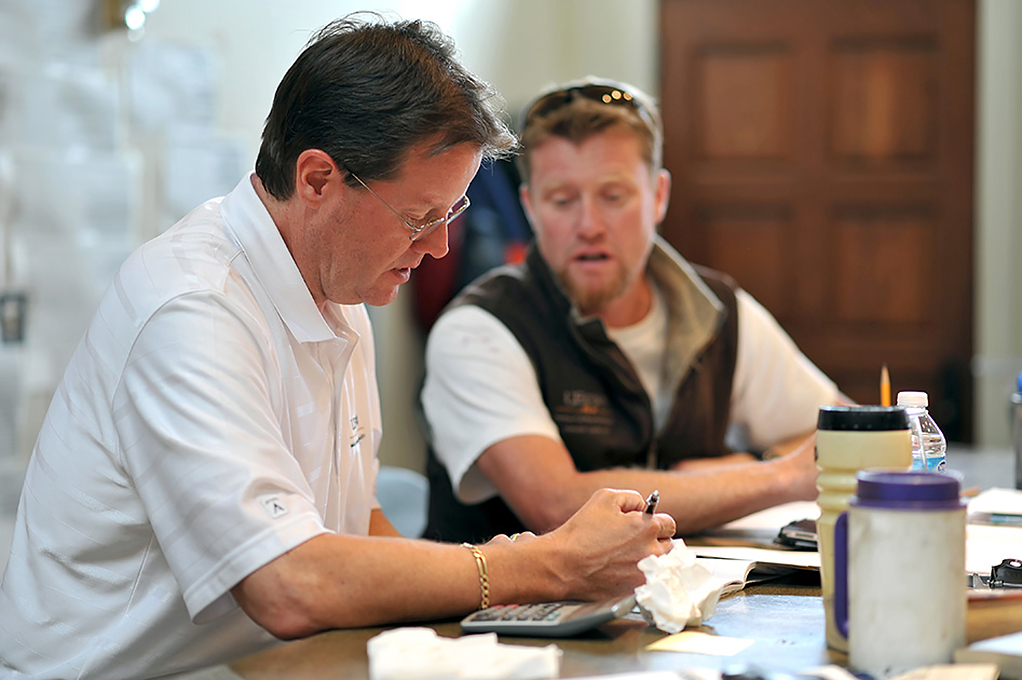 Marty Clubb is the co-owner, with his wife Megan, and managing winemaker today. Wine & Spirits magazine has recognized L'Ecole as a Top 100 winery for 15 consecutive years. In 2014, Decanter praised their 2011 Estate Ferguson as the best Bordeaux in the world.
Very old vines are a key to L'Ecole success. Many were planted in the 1970s and 1980s. Winery literature notes: "Meticulously managed to L'Ecole specifications, we farm the same vineyards and specific blocks of fruit each year with the goal of achieving the highest level of quality. These efforts contribute significantly to the trustworthy reputation of our wines vintage after vintage."
L'Ecole No. 41 Merlot Columbia Valley 2018 presents wondrous dark fruit. Marvelous merlot effort by merlot maestro in Washington State. Soft, plush, palate-pleasing exemplar of excellence. Pair with beef dishes—grilled or roast beef; filet mignon; beef stew; lamb; veal; grilled or roast chicken; roast pork and pork loin; blue cheese, cheddar, gorgonzola cheese. $23-27