Bright, deep gold color; white peach, honeysuckle, apricot on the nose; mandarin orange, tangerine, hazelnut, touch of grapefruit and minerality on the palate.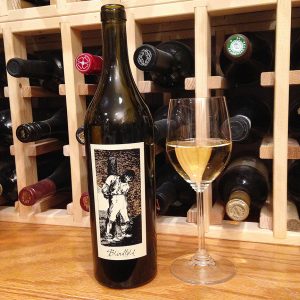 Very full, lush and creamy on the entry, with the mandarin orange-tangerine pleasantly dominant in the initial attack. Blend of chardonnay, roussanne, viognier, grenache blanc, marsanne, and chenin blanc. Aged 10 months in 85% combination of French and Hungarian oak, 25% new; 15% aged in stainless steel. The somewhat reserved use of oak is spot on.
The Rhône varietal grapes give this a full nose, especially the viognier. Chardonnay provides the taste base, but the other grapes make their notes heard, too, something like a jazz orchestra, and it is the unfolding of the different tastes that makes this an impressive and delicious experience. The citrus notes, maybe the chenin blanc, add a tartness on the finish that is intriguing after the creamy attack and mid-palate experience.
The Prisoner Wine Company is a brand of Constellation Brands—they paid $285 million for it, and that was only the brand, no vineyards came with the purchase. Chrissy Wittmann is the winemaker at The Prisoner and Jen Beloz the consulting winemaker, and apparently the leader on the Blindfold team.
The Prisoner Wine Company began with a zin-led red created by Orin Swift Cellars founder Dave Phinney in 1998. Phinney grew The Prisoner brand from 385 cases to 85,000 cases in 10 vintages, a true wine success story. Phinney sold The Prisoner brand to Huneeus Vinters in 2010, and Huneeus sold to Constellation in 2016. Bill Newlands of Constellation said at the time of the acquisition: "More than ever, consumers are seeking high quality, distinctive wines, and the portfolio we are acquiring from The Prisoner Wine Company delivers." Phinney sold his Orin Swift Cellars brand to E.&J. Gallo in 2016. The Prisoner was a separate brand from Orin Swift. Phinney has now sold his brands to the largest wine company in the world and the largest family-owned wine company in the world.
The interesting part of The Prisoner story is it is not about vineyards—the sale did not involve land—but a style and brand. Jen Beloz took over the winemaking from Phinney in 2011; her position is to source grapes from many parcels to achieve a signature brand of wine. The wine world is cleaving into two camps: wineries that make a precise, consistent style of wine, and those that express a particular plot of land and all the terroir elements that go into that equation. We wine drinkers can sit back and enjoy sipping while debating the existential nuances of each approach.
The Prisoner Wine Company Blindfold California White Wine 2014 maintains the quality reputation of the brand even as it expands production and distribution; that is a tough trick we pray the Constellation team will manage. Meantime, enjoy a nicely complex and delicious chard-based white wine that avoids oak monster and butter bomb, just like a respectable chard-based wine should. $26-31
The Prisoner Wine Company website