Galil Mountain Winery Ela Upper Galilee Dry Red Wine 2013: Deep purple color; cherry, cranberry on the nose; semi-sour cherry, raspberry, plum, coffee on the palate.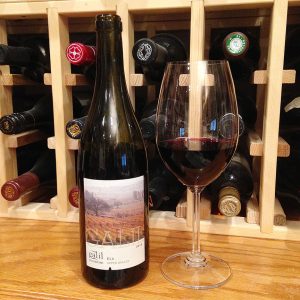 Medium-full body; smoothness, but with a bit of bite; oak and bit of butter as it evolves, thanks to a year in French oak barrels; medium-soft tannins, relatively high acidity (3.53 pH) balances the tannins and likely provides the tartness and bite that surfaces at several stages on the palate. Some black olive and expresso emerge on medium-long finish. Becomes rounder, smoother after decanting, but retains the tartness and bite at the finish of the finish. Interesting. Blend of 51% syrah, 46% barbera, 3% petit verdot.
Galil Mountain Winery was established in 2000 by Golan Heights Winery and Kibbutz Yiron; it is located in Upper Galilee mountains in the northern tip of Israel, a wine growing region with vineyard legacy going back for more than 2,000 years. The winery embraces sustainable agriculture and environmental responsibility, including solar power, wastewater management, and composting instead of chemical fertilizers. It is one of the largest wineries in Israel.
Winemaker Micha Vaadia served as a paratrooper in the Israel Defense Forces, first studied electrical engineering, then switched to horticulture at The Hebrew University. He earned a master's degree from UC Davis, then worked at J Wine, Navarro, and La Crema in California, Cloudy Bay in New Zealand, and Catena in Argentina. Well trained and well traveled, he returned to become chief winemaker at Galil.
Galil Mountain Winery Ela Upper Galilee Dry Red Wine 2013 emphatically demonstrates Israel produces quality wine at exceptional prices. You may be bothered by the tartness and bit of bite, or you may—as I did—find it intriguing and sets it apart, but you will not mistake this for commodity plonk at this price point. Well worth a try during your life's wine adventure. $17-23
Galilee Mountain Winery website