Deep ruby color; black cherry, cherry candy, blackberry on the nose; blackberry, black cherry, plum, dark chocolate, some oak and vanilla on the palate.
Dry; round in the mouth with very easy going tannins for a cab; standard acidity; fruit forward, crowd-pleaser, fun drinking cab with velvety finish. This is about as tame as you can get with a cab—likely there are small quantities of other reds blended in—malbec, merlot, petit verdot, petite sirah in past vintages, but only 10% total. The result is a cab that can be enjoyed by people who don't think they can enjoy cab, and at a great price point.
Tom Gore Vineyards is owned by Constellation Brands, the world's largest wine producer. With its Tom Gore brand, Constellation gives Gore his chance to build a niche as a farmer-based wine selling at a market-bullseye price. It is a clever marketing ploy that presents the wine as created by a golly-gee California farmer—which Tom Gore is, second generation in Sonoma—who works with one of the world's pinnacle alcohol brands.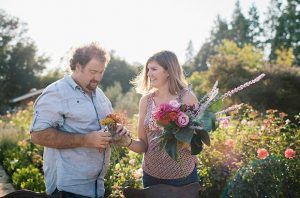 Gore leads the farming effort, encouraged by his wife, Erin. She, too, has farming background, but her roots are Wisconsin dairy farm. Erin told an interviewer: "When I met Tommy and found out that he grows wine grapes, I thought, 'That's much more fun than milk.'" Erin, however is no farm hick; she holds a degree in chemical engineering from the University of Wisconsin-Madison and sells adhesives world-wide, including those used for wine labels. Rounding out the team, veteran Constellation Brands consultant Maureen Martin is the winemaker. She knows what she is doing, too.
Tom Gore Vineyards Cabernet Sauvignon 2015 is a cab for people put-off by cabs in the past. The softness and easy quaffing style is meant to please entry-level cab drinkers—nothing wrong with that, admirable, in fact. Same time, it is nicely made and does not have to be shunned by more sophisticated palates. It has admirable balance and structure for a wine at this price point.
Enjoy this for what it is. It is not sophisticated, but it is genuinely delicious. Pair with pizza, burgers, sliders, steaks—although more assertive big red beef cuts could overwhelm this. The winery sent chocolate-covered California figs with this complimentary bottle, and they knew what they were doing: the not-sweet dark chocolate on the figs matched nicely with the chocolate-mocha elements of the wine. This also could serve well as a solo sipper with simple cheese squares and dark—not sweet chocolate—and good friends around a fire or in a comfortable family room. At the price, you easily could enjoy more than one bottle; at 13.5% ABV, friends could drink a couple of glasses over the course of the evening while sharing good times without setting off taxi cab alerts or invitations to crash on the couch—beyond that, practice prudence. In any event, it would be a good evening. $12-14