Light copper color; strawberry, raspberry, citrus on the nose; raspberry, strawberry, redcurrant, blood orange, plum on the palate.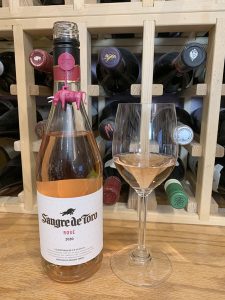 Dry to bone-dry (0.6 g/L RS); soft in the mouth with plenty of fruitiness. Ripe fruits, no real tannins, good acidity (3.17 pH). Smooth with a tincture of citrus and raspberry bite on the finish where the acidity also presents. Light-plus body. Fresh and bright. Certified vegan, which means no animal products were used in the making. 12.5% ABV according to the website and tech sheet. The label claims 14.5%, which must be incorrect.
Blend of "mainly garnacha and Cariñena" according to the website. Grapes undergo two-to-four hours of skin contact, then ferment in stainless steel under controlled temperature for 15-20 days. No oak influence. Although the tech sheet claims a cork closure, this is a screw cap bottle.
The Torres family has been making wine in the Catalunya region since 1954. Catalunya is situated in the very northeast of Spain, right at the border with the south of France. Climate is fully Mediterranean and continental. Some of the regions where grapes are harvested include Penedès, Terra Alta, Priorat, and Costers del Segre.
From the beginning Torres emphasized value-for-money, and this qualifies. They assert they are "ambassadors of the Spanish Way of Wine." They are sold in more than 130 countries. They also are "Official Partners of the Spanish National Football Team." That is a soccer team, of course. In that context, they proclaim they represent "The Soul of Spain" in an entertaining video on the website.
The bottle comes with a plastic, green bull attached to the neck. That represents their commitment to responsible ecological commitment—organic wines, vegan-friendly, solar energy and biomass, more than a one-third reduction in direct and indirect CO2 emissions per bottle (according to audited 2020 data). The winery is a member of the International Wineries for Climate Action.
Torres Sangre de Toro Rosé 2020 is fresh, bright, red-fruit tasty. Enough citrus-raspberry-acidity to make it interesting as a food wine and as a solo/aperitif sipper. Excellent QPR (quality-price ratio) from a major Spanish player in the international market. Pair with tapas and sausages; pasta dishes; salads and vegetarian fare. As expected, works as an aperitif, with a charcuterie board, and sipped solo. Best served well chilled. $8-12
The website does not offer any useable photos.