Pale straw with hint of green color; vivid green apple, lemon, tropical fruit nose; citrus, tropical fruit, fennel, grass, pear, some nutiness on the palate.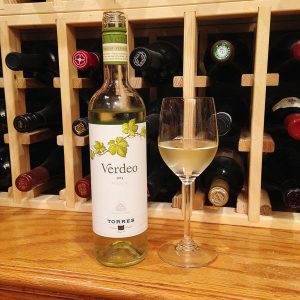 Medium-full body, dry, silky smooth, crisp, refreshing, good acidity, haerbaceous, nicely long finish. With its crispness, good acidity, and minerality, this is similar to sauvignon blanc as a wonderful, all-around food pairing wine. It certainly will cleanse your palate nicely, even when paired with exotic and spicy fare. The region makes blends of verdejo and sauv blanc for this very reason. This bottle is 100% verdejo grapes grown on slate and gravel soild (thus the minerality element). Scant rainfall, hot days followed by cool nights (thanks to elevation of the vineyard) deliver the intensity of flavor and wonderful acidity you get to enjoy with this Bodegas Torres effort.
The comparisons with sauv blanc, particularly from New Zealand, are inescapable. Herbaceous, grassiness, cutting acidity, freshness and crispness. This has a bit bigger body in the mouth, perhaps more aromatic, likely priced lower than equivalanet New Zealand sauv blanc. All the elements combine to make this a very attractive effort. It would be interesting to serve it blind and see how many emphatically declare it to be a New Zealand sauv blanc.
Verdejo is the dominant grape in the Rueda region of Spain, having been brought to the region in the 11th century. Rueda is on the Duero high plateau and includes provinces of Valladolid, Segovia, and Avila. Verdejo is grown few other places on Earth. In addition to varietal plays, it also blends well with sauvignon blanc and viura. The grapes also are used to make a sparkling, Rueda espumoso.
Torres Verdeo Verdejo 2015 is crisp, correct expression of verdejo grape; excellent as an aperitif, also will go very well with shellfish and fish, and its acidity and herbaceous notes will meld well with exotic sauces. It also goes well with pork and with red peppers stuffed with goat cheese. Sauv blanc fans should give this a whirl. $9-11
Photos: Bodegas Torres slate and gravel soil; Bodegas Torres vineyard