Pale straw-lemon color; peach, nectarine, pear on faint, floral nose; peach, lemon zest, minerality on the palate.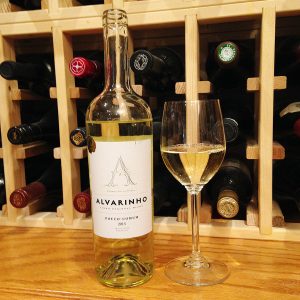 Fresh, rich, full bodied; crisp with nice acidity and tangy lemon notes; pleasingly long finish. This is yet another proof Portugal is sensationally good price-for-quality winner today. Alvarinho is made from same grape as Spanish Albarino, but it comes from the southern side of the Minho River. The richness and texture of the wines from either side of the river are delightful.
Quinta da Lixa is product of the Meireles family. Although they have several business interests, the family remains anchored to their vineyards around the small town of Vila da Lixa. In 1986, they took the small farm to next level as Quinta da Lixa—Sociedade Agrícola LDA. At first the juice was sold in bulk, but that soon moved into their own production and a new, modern winery. The result today is this tasty pour from a rising star on the world wine stage.
Quinta da Lixa Pouco-Comum Alvarinho Vinho Regional Minho 2015 is rich, ripe, full bodied with food-friendly acidity, lemon zest zing, pear and plum palate-pleasing surprises. Great food wine with fish, shellfish. Superb value. $13
Photos: Quinta da Lixa winery; Quinta da Lixa principals; Quinta da Lixa vineyard