Deep ruby color; black cherry, minerality; black cherry, blackcurrant, black pepper, plum, leather, herbs, chocolate, mint on the palate.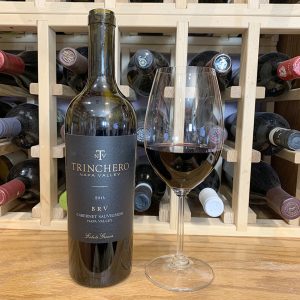 Dry; light oak and tasty tannins, perhaps aided by six years of bottle age. Thus, coming into its drinking window as I taste. I am glad for my restraint. Dense and chewy. Big, muscular Napa cab. Same time, smooth easy in the mouth. Massive red-black fruits; 14.3% ABV. Serious, superb.
Trinchero is the family name of famous wine family. Bob Trinchero became famous by accident. He made award-winning wines with old growth zinfandel. In 1975, however, he faced a stuck fermentation. He finished the wine in hopes of salvaging something, and in the doing created "white zinfandel" under his Sutton Home label. Twelve years later, Sutter Home White Zinfandel was the best-selling premium wine in the United States.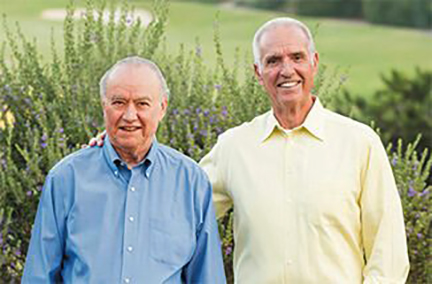 Trinchero is one of the largest family-run, independent wineries in the United States. Not Gallo huge monster, but successful enough. Sutter Home is the label you may be most familiar with. Trinchero-label wines are their upscale efforts. Visit the website for an interesting time-line journey. Site also has immersive, 360-degree visits to the winery.
Trinchero brand harvests all of it grapes, all estate grapes, by hand. Sutter Home refers to its white zin operation as "Chateau Cash Cow", but it Trinchero brand is focused on quality. Visit the website to see and hear the multi-generation family explain their vision.
Trichero is proud of this vintage. Tech notes explain: "The 2018 vintage was one for the books. Abundant rains early on after the new year bundled with plenty of sunshine in the spring and early summer presented ideal conditions for these Sauvignon Blanc grapes. Bud break occurred slightly later than last year, though under favorable weather conditions, resulted in even fruit set. A mild summer enabled for longer hang time leading up to harvest, closing out the coolest growing season Napa Valley has seen since 2012."
Trinchero BRV Estate Grown Cabernet Sauvignon, Napa Valley 2014 is superb Napa cab. Sutter Home is the mass market effort. Trinchero is the family-run company's quality effort. The "B" references Bob Trinchero—progenitor of white zin. "R" references Robert, chief salesforce of the family company. "V" references Vera, aunt of family currently running the company. Watch the video and you will get appreciation of the intensity of the family aspect of Sutter Home/Trinchero company. That is one of the wonders and endearing charm of wine operations.
Pair with usual cab suspects—rich red meats, grilled and barbecued; throw in simpler comfort foods—meatloaf, pizza, crock pot stews. At this price and quality, you also can just enjoy sipping with charcuterie, aged cheese, good friends and lively conversations. $70-85
Trinchero Napa Valley website; nice opening video