Pale straw color; honeydew melon, white peach, orange blossom on the nose; grapefruit, lemon, honeydew melon, white peach, minerality on the palate.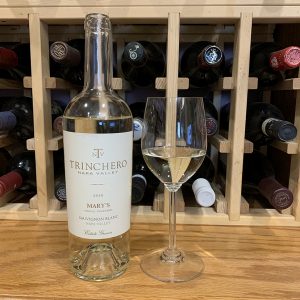 Dry; very crisp with flinty minerality. Excellent acidity (3.27 pH). Hint of grass on finish. Nice complexity. Half of the wine aged on the lees for three months, stirred twice a week. The grapes come from 17-acre Mary's vineyard. Sustainably farmed. Half the vintage came from newer planting of Musqué Clone to add complexity. Light-medium body, nice balance; 14.2% ABV.
Mary's Vineyard was first vineyard purchased by Trinchero family in 1980. It is named for Mario Trinchero's wife. The Trinchero story began when Italian immigrant Mario Trinchero came to the Napa Valley in 1948 with his wife, Mary, and their children, Bob, Roger, and Vera. They purchased and re-opened a closed winery, Sutter Home.
Bob Trinchero became famous by accident. He made award-winning wines with old growth zinfandel. In 1975, however, he faced a stuck fermentation. He finished the wine in hopes of salvaging something, and in the doing created "white zinfandel" under his Sutton Home label. Twelve years later, Sutter Home White Zinfandel was the best-selling premium wine in the United States.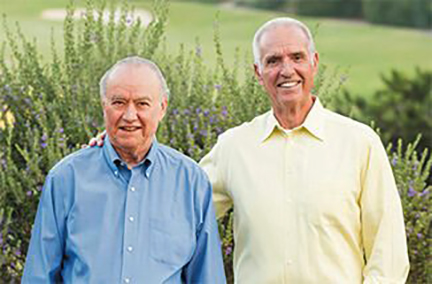 Trinchero is one of the largest family-run, independent wineries in the United States. Sutter Home is the label you may be most familiar with. Trinchero-label wines are their more upscale efforts. Visit the website for an interesting time-line journey. Site also has immersive, 360-degree visits to the winery.
Trichero is proud of this vintage. Tech notes explain: "The 2018 vintage was one for the books. Abundant rains early on after the new year bundled with plenty of sunshine in the spring and early summer presented ideal conditions for these Sauvignon Blanc grapes. Bud break occurred slightly later than last year, though under favorable weather conditions, resulted in even fruit set. A mild summer enabled for longer hang time leading up to harvest, closing out the coolest growing season Napa Valley has seen since 2012."
Trinchero Napa Valley Mary's Single Vineyard Sauvignon Blanc 2018 well made, more Sancerre style than New Zealand. Vibrant acidity. Tropical fruit. Fun, easy drinker, would work nicely with light, lazy, summer lunch or pool side-patio-porch-deck-dock sipping served very chilled. Pair with shellfish; lighter meats; vegetarian fare; goat cheese. $22-24