Deep garnet color; cherry, rose on vivid nose; red cherry, clay pot, cranberry, leather, dragon fruit, cured meat on the palate.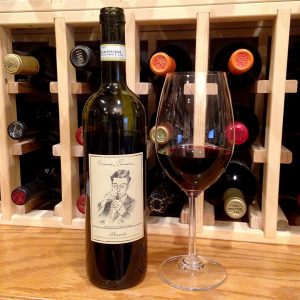 Dry; medium-full body, velvety in the mouth; after 10 years not as rich, robust as a previous tasting several years ago. Restrained oak; softened tannin after 10 years; complex, harmonious. Barolo famously gets less assertive and more complex with bottle age, and this tasting confirms that. This is even more velvety in the mouth than my previous notes.
Made with 100% nebbiola grapes that spent three years in oak, although the oak is restrained in this effort, certainly after a decade. Nebbiola is intriguing because it is lighter bodied red with big tannins when young, but barolo spends significant time in wood and bottle, so it emerges as a medium-full bodied wine with more restrained tannins by the time you pull the cork. It is best after years—thus the tasting of this 10-year-old. Age has served this well. Although it is entry-level Barolo (even at $30-plus price), it displays the grapes smoothness and complexity a decade after harvest.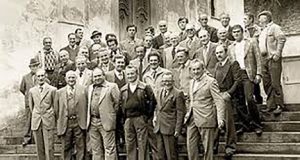 Established in 1957, the Cantina Vallebelbo Sca is an agricultural cooperative that collects and vinifies grapes produced by 150 wine growers that farm about 1,250 vineyard acres in the heart of the Langhe, on the hills around Santo Stefano Belbo. The region and Cantina Vallebelbo is best known for white moscato, but in addition to Asti and Moscato d'Asti, the Cantina Vallebelbo produces the most prestigious piedmontese red wines like the Dolcetto Alba DOC, the Barbera d'Alba DOC, the Barbera d'Asti DOCG, the Langhe DOC Nebbiolo, the Brachetto d'Acqui DOCG, the Barolo DOCG and the Barbaresco DOCG, as well the white wines: the Roero Arneis DOCG, the Piemonte DOC fizzy Cortese, the Langhe DOC Chardonnay, the Langhe DOC Favorita, and the Langhe DOC Arneis.
Vallebelbo Cesare Pavese Barolo 2008 DOCG is coming into its best-drinking spot after a decade, something you have to take into consideration when committing to barolo. This is not a buy and pop-and-pour proposition. Pair with braised or roasted meats, sharp cheeses, wild fowl, American lamb, other rich-flavored meats, spicy cheeses. $32-37