Medium straw color; green apple, lime on the nose; grapefruit, lime, lemon, green apple, pear on the palate.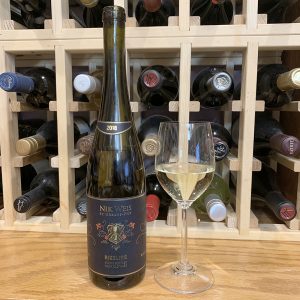 Off-dry; light-medium body, some acidity. Delicious fruitiness sweetness, with note of honey on the mid-palate that plays well with the reserved acidity. No tannins. Soft, very easy drinker; 11% ABV.
Riesling is one of the most versatile varietals in the world. Its wines can range from bone dry to very sweet, from simple to complex, from drink young to cellar for decades. This offering falls into the off-dry suggestion of sweet and to the early levels of complexity. It drives down the middle of the road. Folks who enjoy a little sweetness will easily embrace, while those who want more sharpness and acidity will not be repelled.
Weingut St. Urbans-Hof is a German wine producer located in the Mosel. The family-owned estate was founded by Nicolaus Weis in 1947 and has been managed by third generation family member Nik Weis since 1997. The estate has been part of the Verband Deutscher Prädikatsweingüter since 2000.
The estate's vineyards are located on steep slopes along the Mosel River at Laurentiuslay, Goldtröpfchen and Mehringer and along the Saar River at Bockstein, Saarfeilser and Wiltinger. This effort comes from their Mosel vineyards.
The "old vines" designation is authentic. The vines were planted more than a century ago. Weingut St. Urbans-Hof wines are divided into two collections. Their white label wines are dry. Their black label wines are fruity and may have some residual sugar. This is a black label wine.
Weingut St. Urbans-Hof Nik Weis "From Old Vines" Estate Riesling 2018 is soft, easy drinker with hints of residual sugar and plenty of fruity sweetness. This is not a sweet wine—rather a nice, very affordable example of an off-dry effort that showcases the deliciousness that riesling grape can deliver. Versatile with food—pair with chicken burritos, Thai ground pork salad, barbecued pork, crab balls with grapefruit salad, sautéed German sausage with bacon, ham and Gruyère French toast sandwiches, stir-fried shrimp. $11-16
Note: The Nik Weis St. Urbans-Hof website is under construction. There is an excellent video on the landing page, but no photos.