Why no wine scores in Gus Clemens on Wine?
Scores certainly serve a marketing purpose. How does anyone know what to buy in the avalanche of wines from the world over? An inferior bottle not only is inferior, it can cost big bucks. Horror.
People rely on experts to help make informed purchases all the time. Robert Parker, Wine Spectator, Jancis Robinson, Wine Enthusiast, Natalie MacLean, James Suckling serve that need in wine.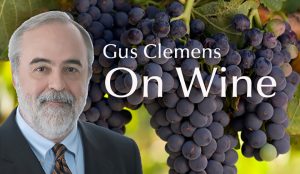 If you sentiently attended first grade, you understand the 100-point system. Each writer may have a faintingly different twist, but all pretty much set the most dismal basement at 70 points, so I am puzzled why they don't use a 30-point scale (or Robinson's 20-point scale with decimals thrown in to turn it into a 40-point scale). But they don't. Everyone knows 90 is A– and 89 is B+.
Everyone also knows appreciation of wine cannot conceivably be that scientifically/mathematically precise.
Those of you who follow my tasting notes online—http://www.gusclemens.com—know I go into much greater detail on individual wines than is possible in a 400-word newspaper column. I attempt to describe classic evaluations (color, nose, palate) then plunge into wine story, vineyard, region and maker. That takes a lot more time than a sip, spit, score evaluation. Very condensed versions of my evaluations become tasting notes near the end of most columns. If they are in the column, it means I found the wine to have some merit, at least for some drinkers. If you want more information, you have to visit me online.
My biggest problem with scores is how they warped the wine industry. When Parker became omnipotent, wineries obsessively pursued Parker's flavor favor. In very simplified terms: lots of fruit, oak, and alcohol. Winery achieves that, gets 90-plus Parker praise, jacks up price, sells out vintage. That is how free market capitalism works. But it also produced lots of expensive, same-tasting wine and left other deserving wines to languish.
That is changing—Parker himself bridles against the stereotype, and to be fair it never was as simplistic as the market made it out to be. But, still, it happened.
Last round: When life gets complicated, contemplate uncomplicated wine.