Deep ruby color; cherry, blackcurrant, violet, vanilla on the nose; blackberry, raspberry, blackcurrant, plum, black cherry, mint, oak spice, cedar on the palate.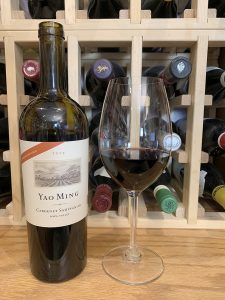 Dry; tasty Rutherford dusty tannins with good balancing acidity 3.59 pH. Medium-plus body, pleasing plush, elegant texture in the mouth. Blend of 94% cabernet sauvignon, 2% merlot, 2% cabernet franc, 2% petit verdot. The grapes come from Yao estate vineyards and other quality vineyards throughout the Rutherford AVA in the northern part of the Napa Valley. The result is a balanced mix of both warmer climate Napa fruit and cooler climate Napa fruit.
The grapes received a light crush, followed by a warm fermentation in stainless steel with moderate pumpovers twice each day ranging from 19-34 days. Full malolactic fermentation in barrel. Wine then spent 20 months in French oak, 65% new barrels. The oak is well integrated into the total wine picture. Bottled with no filtration. Nice concentration and depth. Good length on the finish. 14.5% ABV
Yao Family Wines produces championship pours, befitting a Hall of Fame basketball star. The website gives the back story: "In November 2011, global humanitarian, recently retired NBA star and future Basketball Hall of Fame inductee Yao Ming announced the establishment of his new Napa Valley winery: Yao Family Wines. His dream of creating a classic Napa Valley winery that would become a legacy for future generations of his family became a reality. Industry veteran Tom Hinde joined him in the effort and is the director of winemaking today.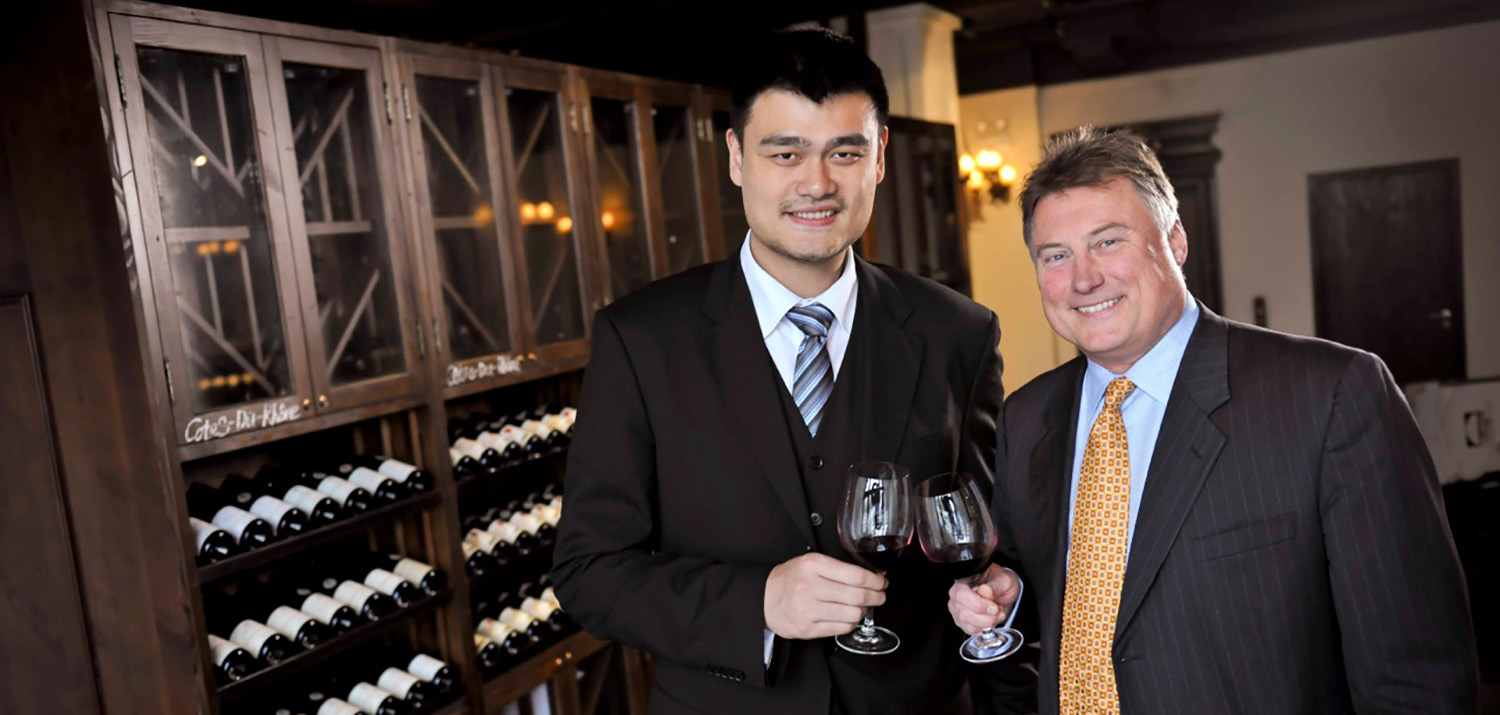 "But the story really begins in 2004, when Yao Ming was still in the early stages of his NBA career. Yao's Houston Rockets teammate Dikembe Mutombo taught him about a true Houston treasure: the Texas steakhouse. Over countless Texas-sized steak dinners, Dikembe introduced Yao to the magic of a great steak and wine pairing, and Yao became an aspiring wine aficionado.
"As Yao puts it: 'A shared bottle of wine reminds me of Chinese meals at home, which are served on what Americans call a 'Lazy Susan'. The food is placed in the middle of the table and shared. In the US, each person chooses their own meal, so the wine is what brings people together. It is shared and brings a common element to the meal.'"
Robert Parker wrote: "I am aware of all the arguments that major celebrities lending their names to wines is generally a formula for mediocrity, but that is not the case with Yao Ming. These are high class wines. The two Cabernets are actually brilliant, and the Reserve bottling ranks alongside just about anything made in Napa."
I agree. Yao Ming is first-class person in addition to being a 7-foot, six-inch basketball star. On the court and in the real world, he was an inspirational example. His wine reflects those qualities.

Yao Family Wines Yao Ming Cabernet Sauvignon Napa Valley 2017 is bold and delicious, a classic premier Napa cab. Slightly brighter acidity than the previous vintage with appropriate alcohol and oak. Excellent depth. Another excellent achievement for Yao Family Wines. Easily can be enjoyed solo or simple pairing with cheese and neutral crackers; with a charcuterie board. Pair with almost any meat; steaks and rich beef cuts and dishes; lamb; wild game—venison, boar; mature, hard cheeses. Delightfully versatile wine, worth the price. $85-100. There is a 2016 reserve version of this wine that sells for more than $250.