Deep, rich golden color; lemon and flowers on the nose; green apple, fresh-baked bread, citrus on the palate.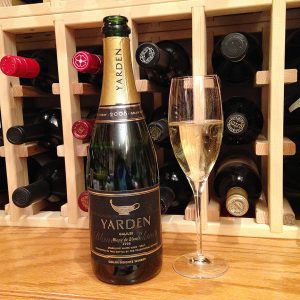 Sensationally dry (2.97 pH), crisp, clean. At the same time, it has invitingly creamy texture. Tasty, refreshing with flamboyantly persistent bubbles—its thick, solid column of tiny bubbles just goes on and on.
Yarden's Blanc de Blancs Brut 2008 is amazing sparkling from the Golan Heights. More French than American in style, although slightly more fruit-forward than iconic Champagnes, it is a vintage sparkling that improves with age—thus the eight-year wait before sending out tasting bottles to wine media. It is made with 100% chardonnay grapes grown in the northern Golan Heights, considered Israel's top viticultural region. Cool climate, thanks to elevation, evokes the superb, cutting acidity. Made using the traditional method (méthode champenoise), including hand harvesting, whole-cluster pressing, and secondary bottle fermentation. Disgorgement came after more than five years aging on the tirage yeast, delivering its impressive complexity. Yarden's Blanc de Blancs vintage efforts are considered the best sparkling wine made in Israel. The 2008 vintage drinks like a $100-plus French champagne, and it costs less than a third of its cousins.
Golan Heights Winery was founded in 1983 and includes four brands: Yarden, Golan Heights, Gilgal, and Mount Hermon. It is Israel's leading premier wine maker. Wine Enthusiast named it New World Winery of the Year in 2012.
Golan Heights' 1,500 acres of vineyards stretch from the Sea of Galilee to the snow-capped peaks of Mount Hermon—a region where wine has been made for more than 6,000 years, but only in the past three decades have modern, quality wine efforts been in place. The Golan Heights Winery's acres are divided into 400 individual blocks; each block is monitored individually, then harvested individually and their fruit kept separate through the winemaking process until final blending.
Winemaker Victor Schoenfeld is one of Israel's most influential winemakers. He graduated from UC Davis in 1988 with a degree in enology. He worked at Robert Mondavi and Preston Vineyards in Sonoma, then Jacquesson & Fils champagne house in Burgundy before joining Golan Heights. Schoenfeld is strong advocate for new wine making technology and precise climatic and viticultural analysis. Not surprisingly, the winery embraces sustainable agriculture and environmental responsibility, including solar and wind power, wastewater management, and composting instead of chemical fertilizers.
This is a delicious and sophisticated sparkling joy at a terrific price. It also is proof that Israeli wines can compete with the world on both quality and price. $32-33
Second, third photos: Yarden vineyards in winter and summer.