Medium-deep copper color; light cherry, strawberry on the nose, cherry, strawberry, raspberry, watermelon on the palate.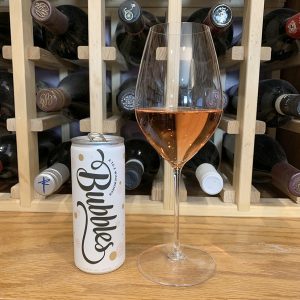 Touch of sweetness, although likely still qualifies as brut. Carbonated pinot noir (with a dash of chardonnay) from Oregon. Wine in a 250 ml can, so taste and other evaluation are tricky. In this package, the wine is more a wine beverage than a serious wine. Taken for what it is, this is really convenient for a picnic, for a boat, for a camping or hiking experience. The point of this is the convenience of a small can rather than the quality of the wine; 12.5% ABV.
The wine quality is not offensive or flawed, but it comes across as commodity pinot noir grapes with an injection of carbon dioxide. There is some creaminess and good acidity. See my notes and link to my review of this same wine in a bottle later in this review. The competition for this is hard seltzer rather than Provence or Champagne.
The can issue is a hurdle for me. If you think the sight of the wine, especially pleasing in a rosé, is important, then you pour the wine into a glass. As soon as you do that, you have abandoned the convenience and, really, the point of the can in most applications.
The wine tastes about the same whether sipped from glass or can, although I found myself slightly favoring straight from the can. The can is equivalent to one-third of a standard bottle of wine. The can is skinny for a reason. Both hard seltzer and canned wine aim to entice those seeking less calories. Skinny cans produce that illusion. For this, at 12.5% ABV, the lesser calories can only be claimed because there is less wine. In the case of hard seltzer it is llusion. A 12-ounce can of White Claw has 100 calories. Its competition, 12 ounces of Michelob Ultra Pure Gold, has 85.
This also comes in a standard 750 ml bottle. I reviewed that wine and was surprised. I think it tastes slightly different in the can, whether poured into a glass or sipped out of the can. Here is link to my review of the standard bottle of A to Z Wineworks Bubbles: Link to my review of this wine in a standard bottle
A to Z Wineworks is Oregon's largest negotiant winery and the top-selling Oregon wine brand. It was started in 2002 by four friends, Oregon wine industry veterans Deb Hatcher (Eyrie), Bill Hatcher (Domaine Drouhin Oregon), Sam Tannahill (Archery Summit), and Cheryl Francis (Chehalem). The couples worked in the Hatcher's kitchen to build the original blend, a pinot noir that was honored by Food & Wine magazine as the Best American Pinot Noir under $20. With such recognition for quality and value, A to Z Wineworks production grew quickly, with grapes for their various varietals now coming from some 100 Oregon winegrowers.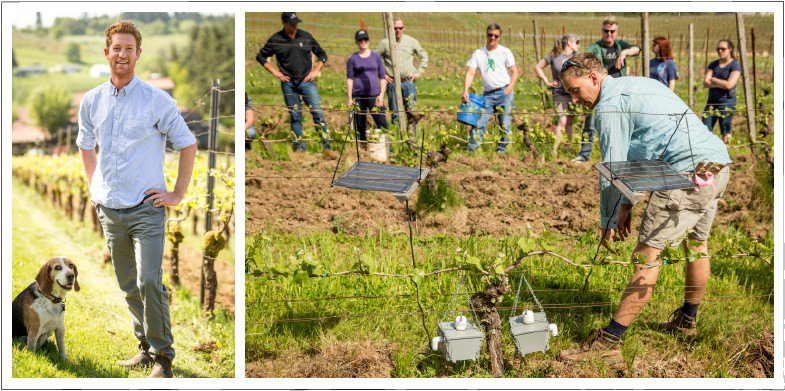 In 2014, A to Z Wineworks became the only winery in the world certified as a B Corporation, a demonstration of deep commitment to transparency, accountability, and social, environmental and economic improvement. B corporations are to business what fair trade certification is to coffee or USDA organic certification is to milk. Certification requires meeting rigorous standards of social and environmental performance, accountability, and transparency. The goal is to redefine success in business beyond bottom line numbers. A to Z pays 100% of its workers above the local living wage and pays 100% of full-time employee health benefit programs. More than 50% of management are women or individuals from under-represented populations.
A to Z Wineworks Bubbles Oregon Rosé Wine (can) is simple, tasty, a fun expression of Oregon pinot noir-led sparkling. Crisp, creamy with good acidity. Fun and whimsy here, but it is built around a core of quality fruit. The canned packaging seems especially appropriate for convenience on a picnic, in a backpack, in a boat. Pair with outdoor activities—hot dogs, burgers, sliders, Buffalo wings, other food you eat off paper plates with your fingers or plastic utensils. Four pack of 250 ml cans, $20.
Superb video on the website about A to Z