Very light yellow-straw color; citrus, lime on the nose; tangerine, white peach, lime on the palate.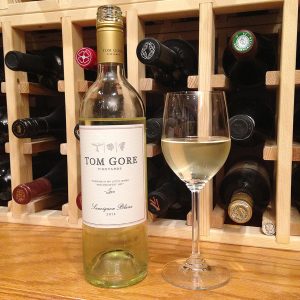 Light with excellent acidity (3.16 pH) balanced by a touch of sweetness. Six percent of this wine is French colombard, likely for acidity and to provide more structure, perhaps also to contribute to this effort's hint of fruity sweetness. Although there is minerality, especially on the finish, this does not drink like a flinty New Zealand sauv blanc, nor does it have the cut grass aromatics of a NZ pour. Tom Gore says his wine is "sunshine in a bottle."
Tom Gore Vineyards is owned by Constellation Brands, the world's largest wine producer. With its Tom Gore brand, Constellation gives a Sonoma farmer his chance to build a niche as a farmer-based wine selling at a proper price, a clever marketing ploy that presents the wine as created by a golly-gee California farmer—which Tom Gore is, second generation in Sonoma—who works with one of the world's pinnacle alcohol brands. Gore leads the farming effort; veteran Constellation Brands consultant Maureen Martin is the winemaker. She knows what she is doing, too.
Constellation's origin story opens in the Finger Lakes region—Canandaigua—of northwestern New York State in 1945. Through internal expansion and brand acquisitions, they became the world's largest wine producer. In many cases, Constellation built its worldwide brand by allowing individual wineries to continue to do what made the winery attractive to Constellation in the first place, although Constellation does work to ramp up production and play to mass consumer tastes—as this sauv blanc clearly does.
Constellation now owns more than 100 brands in wine, beer, and spirits, including Robert Mondavi, Clos du Bois, Franciscan Estates, Ravenswood, Manischewitz, Arbor Mist and many more. Constellation's beer brands include Corona, Modelo Especial and more. Spirit brands include Black Velvet Canadian Whiskey, Svedka Vodka and more. Farmer Tom Gore is playing in the really big booze leagues, and good for him. There surely is a place for his backstory in the wine world, and this California sauv blanc fashioned after the harvest by Maureen Martin will please a wide audience.
Tom Gore Vineyards Sauvignon Blanc 2015 is a well-made sauv blanc that caters to mass market tastes while avoiding blah, watery commodity sinkhole as well as oak and butter monsters. It is very smooth, very easy drinking, priced nice. $14
Photos: Tom Gore at work in his vineyard; iconic image of Tom Gore and his vineyard; winemaker Maureen Martin